On those lucky Mondays when the weekend has been extended, it's usually the done thing to pretend it's still the weekend. And when you've just made brioche but have no jam to spread on it, French toast makes a very good alternative. This recipe makes four good chunky (1.5cm) slices.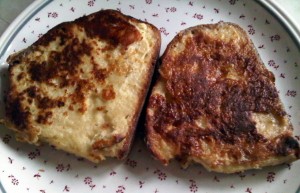 Ingredients:
4 thick slices of brioche
2 eggs
50ml soya milk
Method:
Beat the eggs until evenly blended and slightly frothy.
Add the soya milk and mix again.
Soak the sliced brioche in the eggy mixture until thoroughly covered but not soggy.
Pan fry with a little oil until brown and crispy on both sides. Coconut oil is particularly good.
Serve drizzled with as much honey as you can handle and a nice cup of tea.