1 Lombard Street, London EC3V 9AA www.1lombardstreet.com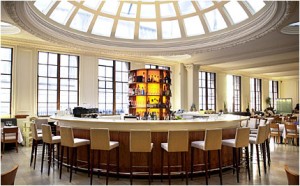 What can I tell you about 1 Lombard Street? It's got quite a reputation, but now I'm not so sure what that is.
You see, I've been wanting to go there for a while. Curiosity, I suppose, about City opulence. It's not exactly known for being cheap, and with a prime location right next to Bank underground station, you wouldn't expect it to be either.
It was an impromptu dinner for me and my friend. I just attended a whisky-laced event and my friend just finished work, in the City in fact. Both ravenous, both in need of pampering. I suggested 1 Lombard Street as we basically met on its doorsteps. And its reputation precedes it.
The interior was certainly impressive. Lavishly decorated, the ceiling is so high that vertigo could strike if you look up for too long. So really, it's much better to be staring at your feet. That's what the staff will be doing anyway to make sure the right sort of clientele passes through its heavy doors.
And when they're not looking you up and down, you'll still be expected to wait even if the restaurant is largely empty. First at the door for them to make their way towards you across the lengthy hall of the brasserie and then at the bar until they can assemble your table for you. Apparently half 8 is unexpectedly late for people to go for dinner. Surprising, given that the average end of play in the City seems to be around 10pm. Or is that too early an estimate?
For Burn's Night it was very quiet, in the brasserie at least, as I discovered when I later set down my fork more heavily than intended and the sound resonated across the room, nay hall. In the restaurant was probably another story as groups of men in kilts streamed out every once in a while. It was sort of hard to see when you're sat next to a huge column but at least we weren't entirely shadowed by it like the girls on the next table.
I had the limousine veal chop with pesto, lemon and tapenade and my friend had the coq au vin bourguignon with mashed potatoes. Both were rather excellent. Desserts were equally so. The food was definitely good, I can't fault the food. The wine was good too, a very drinkable Sauvingnon Blanc.
The service however, was something else. There was no clicking of fingers and demanding service from the "garçon" on our part. No, indeed, the staff came and went like shadows of the night. It was great for us to really get into our conversation but not so much to rectify the hunger situation. It was lucky we got their attention long enough to place our orders. And after endless waiting, we still had to pour our own wine to quench our thirst because no water was offered.
Perhaps media and City types are just too hip and happening? Perhaps we were in the wrong age bracket? Perhaps we offended them by turning up at all? Whatever it was, we weren't exactly made to feel welcome. Actually, we thought it was quite funny. But that could just be the wine talking. So when I was recently offered the opportunity to go for a review, I politely declined. After all, I wouldn't want to intrude.