Boisdale of Belgravia is at 15 Eccleston Street, Belgravia, London SW1W 9LX www.boisdale.co.uk
Ahead of Burn's night on the 25th of January, I was invited to a lunch time blind tasting of haggis and malt whisky at Boisdale of Belgravia.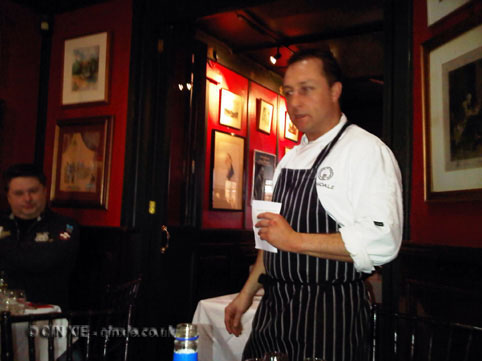 Boisdale is, for some, synonymous with Scottish food. The owner, Ranald Macdonald, is a Scotsman whose family's roots can be traced back to the 14th century. His father, also Ranald Macdonald, is the 24th Chief and Captain of Clanranald – a branch of one of the biggest clans in Scotland. With these strong Scottish ties, it's only natural that the restaurant takes an air of, well, Scottishness. That bit is obvious as soon as you enter the restaurant and see the tartan chairs.
Tartan aside, the restaurant is eccentric to say the least. Every wall is filled with something framed – be it painting, drawing or photograph. Each room also embodies some quirky characteristic. And there's certainly plenty of character to choose from, with the Macdonald Bar, a courtyard garden, a back bar, the Auld restaurant, the Jacobite room and a cigar terrace. Perhaps that's why it's also the perfect venue for events such as live jazz, cigar nights and whisky tastings, which Boisdale runs regularly.
The haggis and whisky tasting is one such event. On this occasion, the attendees were a mix of members (the restaurant has its own member's club), their guests and regular diners of the restaurant. The restaurant's head chef, Andy Rose, presided over the tastings and introduced the haggis. We also enjoyed a recitation of "An Address To A Haggis" by a descendant of Robert Burns.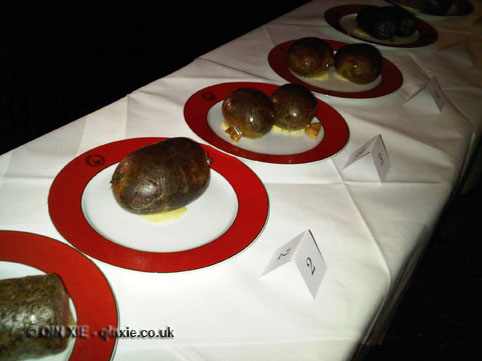 We each had a sample of six whiskies and six haggises to taste. The idea was that we would taste them all in turn and pick our favourite haggis, whisky and haggis/whisky combination. In practice however, the events were a little more lively. That is not to say, of course, that people didn't take it seriously. On the contrary, some took it very seriously in fact and tried to guess the whisky according to its defining characteristics. But others were simply content to taste some fine whiskies with some delicious haggises. And when you gather a room full of strangers over drink and food, things, inevitably, takes on an air of "Come Dine With Me".
But back to the haggis and whisky.
It was my very first taste of haggis and I have to say, I rather liked it. Each haggis had a very distinctive taste and texture, with its own unique blend of spices. My favourite was from Mogerleys of Dumfries for its slightly more meaty flavour. We also tried Crombie's of Edinburgh, Macsweens, Ramsay of Carluke, Findlay's of Portobello and Boisdale's own, specially created by Andy Rose.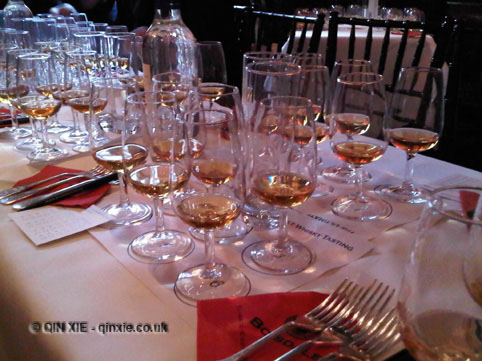 On the whisky front, we had Johnnie Walker Black Label 12y.o., The Macallan 10y.o., Talisker 10y.o., Glenfiddich 12y.o., Glenmorangie The Original 10y.o. and The Glenlivet 12y.o. Of these, the Glenfiddich 12y.o. came up tops for me although both of my neighbours had different ideas. Such is the nature of personal taste.
After that jolly lunch, some retired to the bar for more drinks, others stayed for more haggis and conversation. And if you're me, you would have gone out searching for coffee to try and counter the inevitable intoxication.
(First seen on Foodepedia)