Pssst. That's the sound of the small East London bottling plant where a fresh batch of Dalston Cola, a stripped down version of the eponymous soft drink, is being carbonated, ready for distribution in the neighbourhood's independent cafés and bars.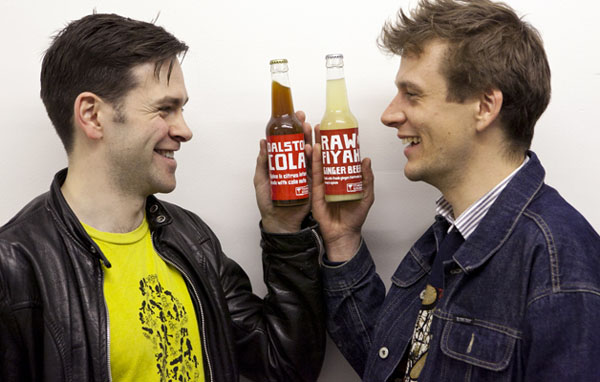 Created by the people behind Treehouse Kitchen, Stephen Wilson and Duncan O'Brien, the drink was conceived just over a year ago for events at Passing Clouds arts club, and is fast becoming the mixer of choice for Dalston's foodie scenesters.
It was while investigating the ingredients in Coca Cola, with its famously closely-guarded recipe, that Stephen discovered kola nuts, the original flavouring for cola. "The nuts were grown on trees indigenous to Africa, and played a large part in ritual behaviour. Drinks made from the nuts were originally medicinal, with many of the other spices in the drink having healing properties," says Stephen. Surprisingly, by speaking to people at his local markets, he discovered that fresh kola nuts could be found right here in London. It was then that he decided to start making this soft drink, but with less sugar than you'd expect. When he added the nuts to apple concentrate and muscovado sugar for sweetness, organic ginger to add to the bite, a little vanilla, some lemon and orange zest, and some spices to create Dalston's own secret formula, he realised he'd stumbled across something special.
Initially Dalston Cola, as it was soon christened, was only sold in syrup form. But after consulting Evin O'Riordain from Maltby Street's The Kernal Brewery, Stephen and Duncan decided to start experimenting with bottling. By March 2012, Treehouse Kitchen was producing 250 bottles of the drink's sparkling form a week, as well its Raw Fiyah Ginger Beer, which includes lots of fresh organic ginger, Fairtrade sugar, organic apple concentrate and a few herbs and spices that shall remain secret.
Both products can now be found on the shelves of Passing Clouds, The Russet in Hackney Downs, E5 Bakehouse, Tina We Salute You, The Vortex Jazz Bar and Betty's. But these two 'Davids' against the Goliaths of the soft drinks world don't want to fall into the trap of just being an edgy East London company. Treehouse Kitchen was started because the pair wanted to create a company which serves food that's 'good for people and the planet'; where they know where the ingredients come from, how they're produced and what the labour conditions are like. So there's a striking (red and white – of course) logo, but they've steered away from funny shaped bottles and the fashionable 'ye olde England'-style labels and won't be "scrawling any philosophical ramblings" on the product any time soon, says Duncan. Instead, they are concentrating their efforts on market research, including, of course, learning more about a certain global multi-billion dollar competitor.
(First seen in The Jellied Eel)