In this 25th year of my life, I seem to have slipped more oysters than any other. They've come from as far as Japan and as close as, well, down the road from where I sat sampling them. And while it has been an experience navigating the subtle shapes, tastes, scents and textures, I've never had an opportunity to shuck an oyster myself.
But with the start of the native oyster season came a most irresistible invitation – an evening of champagne and oysters to celebrate these delicate little molluscs.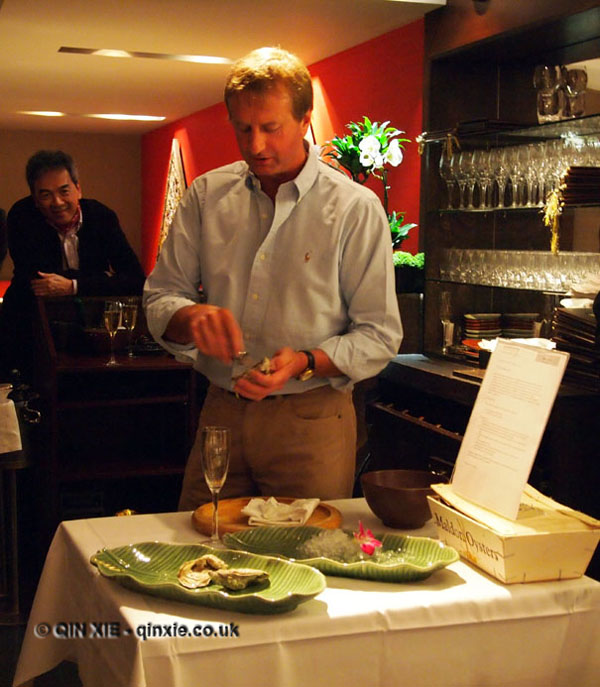 The event was held at Patara, a Thai restaurant who are putting Maldon oysters on the menu across all their venues for the next two months. Richard Emans, the director of Maldon Oyster Company, was on hand to demonstrate the art of shucking an oyster while we supped on finely chilled champagne and attempted to garner some skills.
It seems that with all the fancy shucking equipment out there, all you really need is a tea towel and a good shucking knife. And the right technique of course.
So to shuck an oyster, start at its hinge. Brace your oyster in the tea towel, flat side up and revealing only the hinge, to protect your hands from potential slipping of the knife. Tackle the crevice in the hinge with your shucking knife at 90º. You want to prise it open with gentle annoyance rather than brute force. Of course that is not to say that some strength is not required too. After all, my first oyster proved to be rather stubborn.
When you do breach its shell, the shucking knife slips subtly inside and you will need to run it along the top shell at 15º. This removes the flesh from the "lid" and allows the two shells to be separated.
The last thing to do is to run along the edges of the flesh and gently flip it in its "cup", taking care not to lose any of the liquid, so it presents beautifully.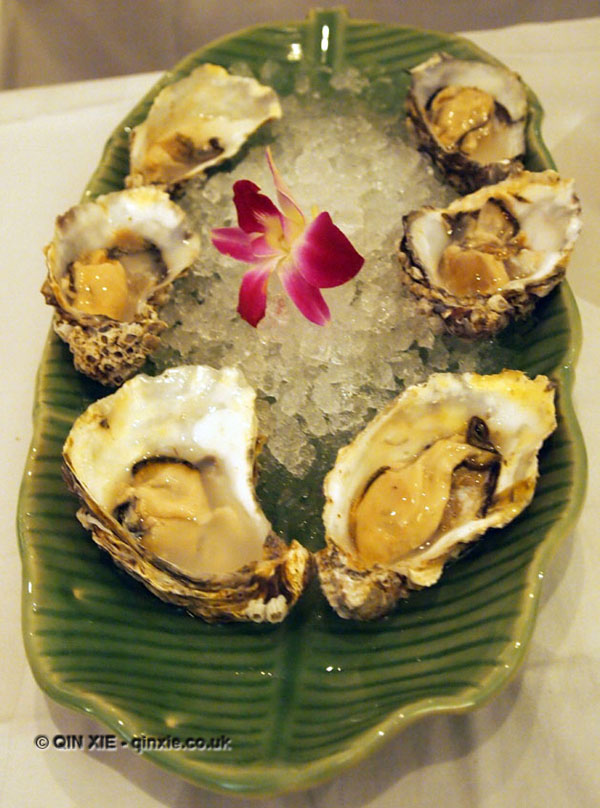 After the demonstration, it was time for the oyster shucking competition. Teamed up with Luiz Hara of thelondonfoodie, we were given two oysters each to practice our technique before being let loose on a pair of sixes per team.
As I struggled through the four oysters I managed to release from captivity, Luiz breezed through the other eight. But unfortunately it wasn't to the speed of the team placed just across from us, who were indisputably the fastest. Luckily for us, the competition was judged on presentation as well as speed and we knew a thing or two about showing off our wares. Thus coming second on speed wasn't too detrimental to our efforts.
In the end it came to a harmonious draw. The winning team each slinked off into the night with a proud box of huîtres under arm and a Patara cookbook to remember the evening – but not before being sumptuously fed on oysters and fine Thai cuisine, accompanied by more champagne and wine.
Maldon oysters are available at Patara until the end of November. Visit www.pataralondon.com for more information.
(First seen on Foodepedia)