A potted tale of how it came to be that I made it to the S. Pellegrino World's 50 Best Restaurant Awards last night…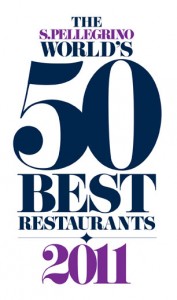 11.39am The phone rings: "is anyone going to this World's 50 Best Restaurants thing? Someone should go and represent the magazine."
*ding ding ding*
I perk up, light bulb switches on over head. So that's what all the hush, hush discussion has been about here and there.
15.35pm Slight excitement in the room. No one has confirmed that anyone is going yet.
"I am well up for that," I quip in. Naturally said more in jest than anything else. After all, I already had plans to visit a certain Bistro du Vin in Clerkenwell. A marmalade martini had been promised and I was excited. Excited I say. And I had plans I wanted to discuss.
16.42pm The ed. finally gets in touch post Le Manoir experience. He totally has it covered. The buzz subsides and things return to normal.
17.26pm The ed. calls again: "I'm on my way back but I don't think I can be there in time, can anyone else go?"
*ding ding ding*! (*ding!*)
I perk up again. You have to be in it to win it they say and by some miracle everyone else was busy. The 'burden', if you can call it that, falls to me. "Bring back a press pack," I hear over the excited ding in my head as I email to cancel, at the very last minute, my Bistro du Vin visit (really very sorry indeed!).
I feel like a kid in a sweet shop – one who has already consumed a large amount of sugared products and subsequently developed a bit of a tick. Most annoying but maybe also slightly adorable too.
17.34pm I dash out of the office, walking with something that's really between a hop and a skip, concerned that I would be late. The hardcore gym sessions over the weekend has really caught up with me. I berate myself over my choice of shoes, should've worn tights too. At least my dress is ok. "Oh my god, is it? It's a tad on the short side with this no tights business. And what if it was black tie? Arggh, I don't know what's going on." Slight panic.
17.48pm My train still hasn't arrived. It is late, just like I'm going to be. More panic. I pace up and down the platform in an odd sort of limp, from aforementioned gym sessions. I stop when I realised that I haven't seen my face for a while and quickly slap on everything I've got, make up wise that is.
17.50pm The train arrives at last. "It's ok, the Waterloo and City line won't take long at all." As I sit on the train though, I can't stop that nervous tick. I open my bag, get out my phone, try to check the time then put it back. Two seconds later I realise that I haven't seen the time at all but was merely satisfied that I had no new messages. I get out my phone again and repeat.
Eventually, sensing annoyance from my neighbour, I play Solitaire. It keeps me preoccupied for a while.
18.42pm I am here! Who'd thunk it? This is madness. There's a tonne of people outside the Guildhall. Mostly media types – people carrying cameras, holding notebooks, extending microphones. I go to the entrance only to be told the media entrance is in the other direction. Being turned away, albeit to another entrance, feels like it should be the walk of shame.
I trundle towards the media entrance and spot someone I know and feel instantly reassured. For a second, I was having a Bridget Jones moment. You know, the moment when someone says "Qin, you're an imposter. Get out of here!"
It didn't happen. Thankfully. Could've just been the Veuve Clicquot flowing alongside the red/white wine and mineral water.
20.35pm We have all been bundled into the hall for the awards. I sit somewhere in the middle between two men with contrasting suit textures. A woman sits in front with an extremely fluffy looking feather wrap, which I can't stop blowing. Must behave. And sit through all 50 restaurant awards. Without water. Or loo breaks. It's like a school assembly but Twitter is my friend. I ponder the décor.
The rest, as they say, is history. Some were certainly made at the after parties in Sanderson and Milk & Honey…
The winner's list: