Recipe from Discover the Origin with Matt Tebbutt
Serve with a white Burgundy such as Meursault or Viré-Clessé
Serves 4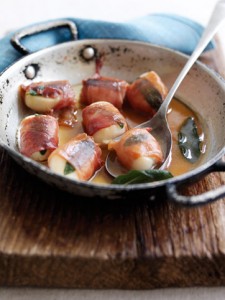 Ingredients:
400g long-grain rice
finely grated zest of 2 lemons
2 teaspoons vegetable stock powder, plus an extra pinch
24 small fresh sage leaves
24 scallops
12 slices Parma Ham, cut in half
50g butter
6 tablespoons Marsala
4 tablespoons fresh herbs (chives, parsley, thyme, etc.), chopped
salt and freshly ground black pepper
Method:
Put the rice on to cook in plenty of boiling water, adding the lemon
zest and one teaspoon of stock powder to flavour it. Cook until tender –
about 12 minutes.
Meanwhile, place a sage leaf on top of each scallop and wrap half a
slice of Parma Ham around each one. Heat the butter in a frying pan and
add the Parma Ham-wrapped scallops, cooking them for about two minutes
before turning them over to cook the other side.
Add the Marsala, four tablespoons of hot water and the pinch of
stock powder. Simmer for two or three minutes to reduce the liquid a
little. Season to taste.
Drain the cooked rice and stir through the chopped herbs. Serve with the scallops, along with the cooking juices.