This is a recipe from the Michel Roux Jr and Bordeaux wine partnership
This recipe for me is all about childhood food memories, the rum gives it an adult kick and the banana crisps an extravagance well worth the effort.
Serves 6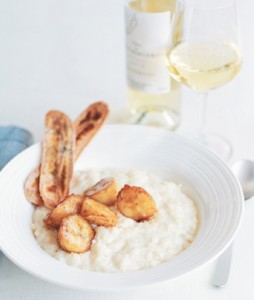 Ingredients:
1 Litre milk
75g caster sugar
1 vanilla pod, split
2 cloves
2 sticks cinnamon
3 cardamom pods
½ tsp ground nutmeg
200g pudding rice
4 bananas, peeled and cut into wedges
1 tbsp butter
1 tbsp light muscovado sugar
2 tbsp dark rum
1 200ml can of sweetened condensed milk
For the banana crisps:
1 under-ripe banana
Icing sugar for dusting
Method:
For the rice pudding:
Bring the milk to the boil with the caster sugar, split vanilla pod, cloves, cinnamon, cardamom and a little nutmeg.
Sprinkle in the rice and stir. Simmer for 40 minutes, stirring occasionally to avoid sticking.
Cover and leave to stand for at least 20 minutes.
Pan fry the bananas with the butter and sugar. When lightly caramelised but still firm, pour in the rum and take off the heat.
Fold the condensed milk into the rice.
Serve the pudding in bowls with the banana on top.
Decorate with banana crisps.
For the banana crisps:
Peel an under-ripe banana and slice it as thinly as possible lengthways.
Put the slices on a non-stick baking mat, dust with icing sugar and dry out in a low oven, 110°C, until brown and crisp.
These crisps can be kept in an airtight container for a couple of days.
My Bordeaux Wine Pick: Sauternes
Rich with tropical fruit, sweet with butterscotch, yet perfectly balanced with a hint of spice, for that extra level of indulgence. Matched with this rich rice pudding, this would be my perfect Bordeaux pick.