I travelled to the island of Grenada recently for the second Grenada Chocolate Festival. It's not the first time I've been to the Caribbean, or to a chocolate plantation, but Grenada had something different to offer – Grenada was the first cocoa producing country to do the whole cocoa bean to chocolate bar process. (You can find out more about the process itself in the video further down.)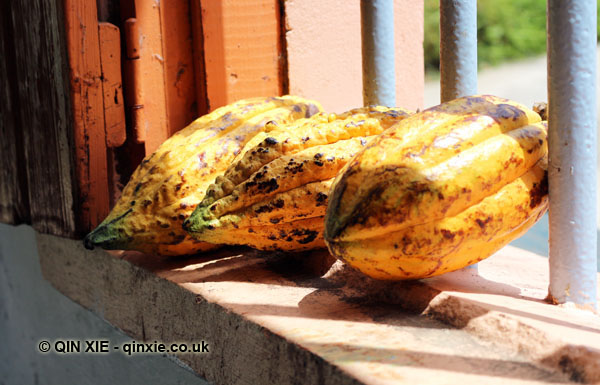 (I was in Grenada for a whole week of chocolate related events so brace yourself for a long post. More to come on Grenadian culture, rum and cocoa tea. Meanwhile, you can read my posts on chocolate in the Dominican Republic here.)
The Grenada Chocolate Company
In 1999, something big happened for Grenadian chocolate. An American man by the name of Mott Green, born David Lawrence Friedman, founded The Grenada Chocolate Company. Like many people, Green had this idealistic vision of producing organic, fairly traded and sustainable chocolate. The only difference was that he made his vision a reality.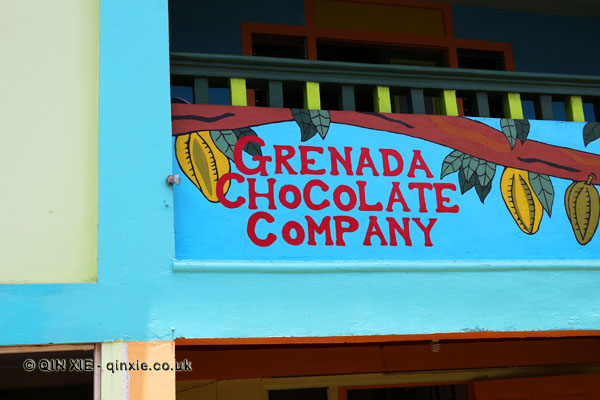 Using locally sourced organic cocoa beans, The Grenada Chocolate Company created the first bean to bar chocolate made in a cocoa producing country. The beans were as fairly traded as they could come – everyone in the company was paid the same salary as part of a co-operative system. The resulting chocolates were of such high quality that they won awards from the Academy of Chocolate in 2008, 2011 and 2013. Things didn't stop there though.
Green wanted to increase the sustainability of his business in a big way. The chocolate company relied heavily on solar power whenever possible. Green also enlisted the help of Tres Hombres, reportedly the world's only engineless sailing cargo ship, to transport his chocolates out of Grenada for sale. (They're available online from the Chocolate Trading Co and a few other places.)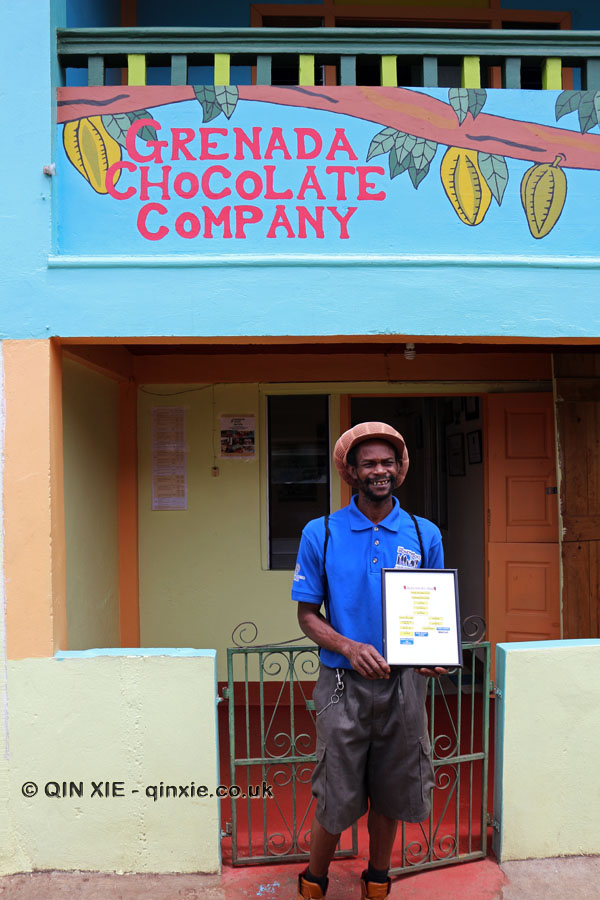 It was Green's pioneering vision which really put Grenada's chocolates on the map and enabled other chocolate companies on the island to follow suit. Unfortunately it was also a work-related accident which ended his life prematurely.
Grenada Chocolate Festival
Back to happier thoughts and the Grenada Chocolate Festival. I know what you must be thinking and you're right – there was a lot of chocolate during my stay in Grenada. In fact, I have probably consumed more chocolate in a week than I do in a whole year. But it's not just about the eating of chocolate but rather, the appreciation of cocoa.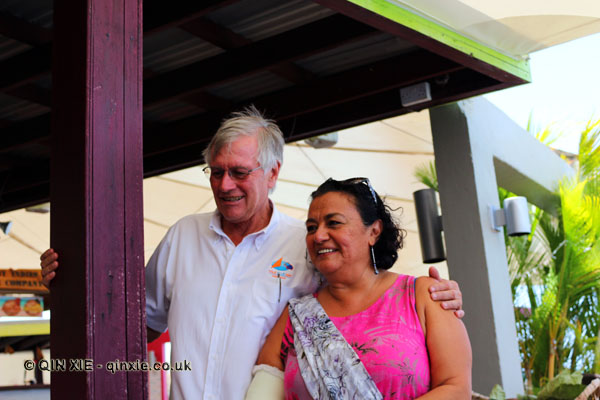 This second Grenada Chocolate Festival was hosted by Magdalena Fielden at True Blue Bay and took place from the 8th to the 17th of May. Fielden is the owner of the boutique resort and the Honorary Consul of Mexico in Grenada. Thanks to Fielden's influence, Mexican chocolatier, architect and founder of the Mucho-Chocolate Museum in Mexico City, Ana Rita García Lascuráin, was in town to lead tastings and talk about the health and beauty benefits of chocolate.
According to García Lascuráin, chocolate was thought to have been good for the head, the heart and the stomach. Of course chocolate in Maya Mexico was consumed rather differently from today.
García Lascuráin demonstrated how cocoa beans might have been ground with the metate (flat mortar stone) and mano (stone pestle) before being used in cocoa tea. She also talked about the different cocoa products used in beauty treatments today. Cocoa butter for example, might be used in lip balms. We had a recipe to make this and a couple of other beauty treats but it's hard not to feel like the finished product might taste better on toasted crumpets.
There were other cocoa related activities too including expert led chocolate tasting, yoga and chocolate meditation, hash (run, or hike) along a cocoa trail and of course visits to the plantations.
Belmont Estate, Crayfish Bay and Diamond Chocolate Factory
I visited two cocoa plantations while in Grenada – Belmont Estate and Crayfish Bay.
Belmont Estate
Belmont Estate is a co-operative of farmers who produce organic cocoa beans and other crops, like the island's famous nutmeg. It's where the Grenada Chocolate Company is based and sources its beans. They have a huge restaurant on site with a visitor's centre, museum, shops and a goat dairy where they make cheese. This is the place to go to if you're visiting with children and want to learn about the bean to bar process.
Crayfish Bay
Crayfish Bay is a much smaller farm in comparison. Right now, their beans are shipped to the UK and made into chocolate by Pump Street Bakery but the estate's owner, Kim Russell, is also building a chocolate factory of his own. It's a real grass-roots sort of operation where the farm manager would roast the beans in a pan over open fire. The cooled beans are then cracked, winnowed with the help of a vacuum cleaner and then ground into paste. That paste, along with sugar, coconut milk and a shot of rum makes the best cocoa tea that you'll ever taste. It's something that you'll probably be unlikely to taste, unless you stay in the little B&B on the estate. That is, until the chocolate factory is completed in 2016.
Diamond Chocolate Factory
I also visited Diamond Chocolate Factory, which, from what I gather, doesn't have its own plantation. Instead, the focus is on producing chocolate from locally sourced beans. It's perhaps the most technologically advanced of all the chocolate producers, offering a full factory tour. It's also producing the smoothest chocolates of those that I've tasted.
Check out this video I made of a shortened version of the bean-to-bar process at Diamond Chocolate Factory:


Tasting Grenadian chocolate
As I've already mentioned, I tasted a lot of chocolates over the course of the week. They were all dark chocolates with upwards of 60% of cocoa, each with their own distinctive character. It's apparently a special feature of Grenadian chocolates that they contain no dairy products.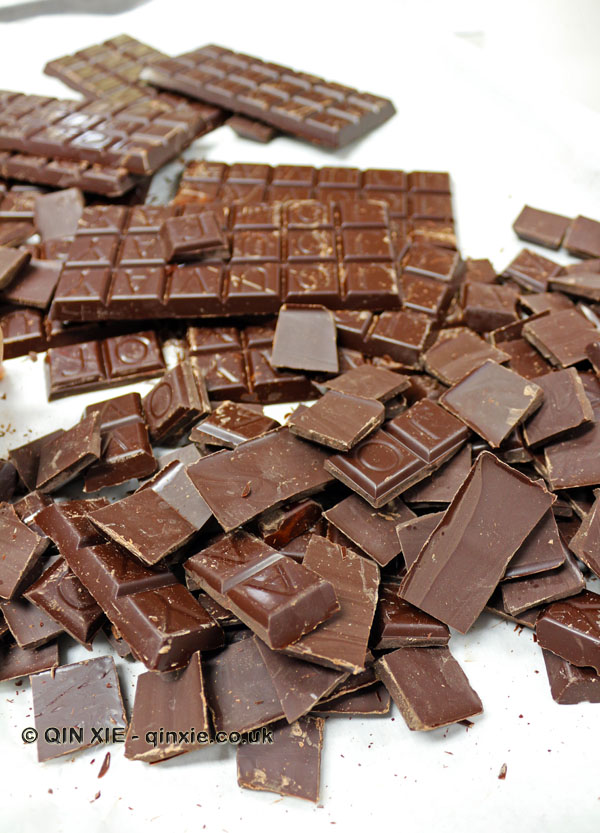 There were two things that I noticed about Grenadian chocolates. In the main, the chocolates left a drying sensation similar to that of tannin although the flavour is perhaps closer to that of cigar or sometimes black tea. The second is a textural thing.
I've tried a lot of chocolates from two years of judging for International Chocolate Awards and one of the things you have to look out for is the smoothness of the chocolate (think of that Galaxy advert). Grenadian chocolates always left this slightly grainy mouthfeel, which is perhaps that tannic deposit on my palate.
I'm not sure whether this was because of the length of conching, the lack of dairy in the chocolate or something else altogether. In general, a longer conche time (emulsifying with the help of giant wheels) means a smoother and richer tasting chocolate but this can also be manipulated by adding other ingredients such as dairy and fats. Either way, there's was a rawness about the chocolates that I'm not quite used to. But then again, just as for wine, just because you're not used to something doesn't mean it's not good. By and large, these dairy-free Grenadian chocolates are much better for you than the over-processed over-adulterated stuff that we see so often.
And, as I wrap up this post, I feel like I'm missing a little chocolate in my life.
---
In Pursuit of Food travelled as a guest of the Grenada Tourism Authority. If you want to find out more about what this means, please see our Editorial Policy.