Absolute Taste at Harvey Nichols, 109-125 Knightsbridge, London SW1X 7RJ www.absolutetaste.com
Last week I was invited to try my hand at making a few "F1 quality" nibbles at Absolute Taste at Harvey Nichols. The F1 quality is not to blow my own horn of course but rather because Absolute Taste started out as a hospitality company catering to the VIP guests of Vodafone McLaren Mercedes around the world.
Founded in 1997, Absolute Taste was the brain-child of Ron Dennis and Lyndy Redding with an objective to create contemporary and delicious food that's presented with style. The success of their venture was led by their growing reputation for stylishly good food and professional service.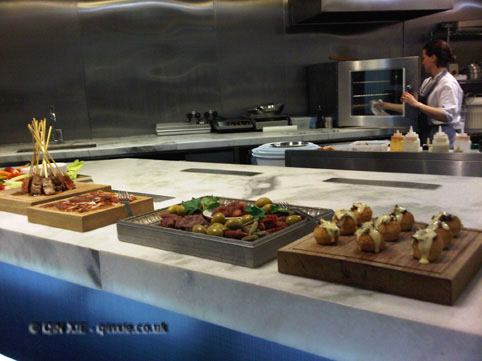 Since their launch, Absolute Taste have successfully branched out into other fields including Absolute Taste Inflight, Cafés by Absolute Taste, Gordon Ramsay by Absolute Taste and most recently Absolute Taste at Harvey Nichols which opened in May this year.
Our little cookery class was led by Executive Chef Will Gould and Head Chef Andy Ritchie and took place at the kitchens of Absolute Taste at Harvey Nichols. Located on the Fifth Floor and tucked away behind the Foodhall, this was the perfect little spot to make the mistakes not normally made in an Absolute Taste kitchen.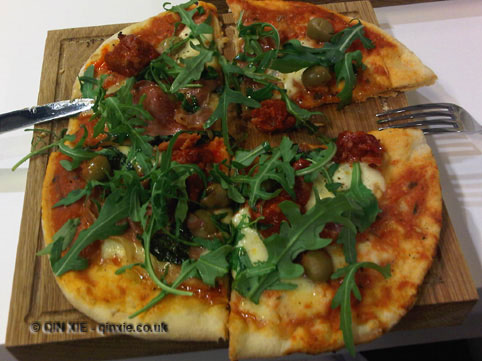 First up was pizza making with Andy. I must admit, I've made a few pizzas in my time but never with so much autonomy in a professional kitchen. Andy quickly put one together and then pretty much left us to our rustic creativity. Mozzarella balls, olives, parma ham, and chorizo all went on to my hand rolled and slightly square pizza base. In fact, my entire pizza was a little "square" with its not very rustic attempt at perfection. Rest assured though, my pizza moving skills are far below par so the result is still fairly rustic. Three minutes in the amazing pizza oven and we had dinner part one. Topped with a sprinkling of rocket leaves and a drizzle of truffle oil, my pizza was looking good and tasting even better.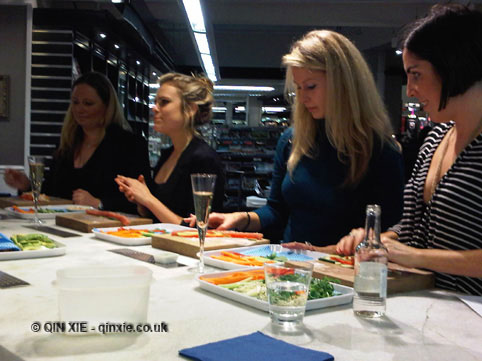 After a quick munch it was on to the rice paper rolls with Will. He led us through the ingredients like yellow fin tuna and of course the rice paper itself. Putting whole mint leaves along with the basil into the paper rolls helped to protect the soaked rice paper from tearing. It was then topped with the sushi grade tuna, cucumber, carrots and avocado and rolled as tightly as possible to create the rice paper rolls. The wasabi was optional but the result was very sushi like. So much so in fact, it's sometimes served as a substitute for sushi for those who don't like the taste of seaweed. Well I quite like sushi but these were also rather good. The mint leaves were a very unusual addition and definitely gave the whole thing a much more refreshing mouth-feel.
So what did I learn from my experience? When making pizza, don't try to be neat – the rustic pizza will prevail. And though my efforts weren't quite F1 quality, they did taste wonderful.
Absolute Taste at Harvey Nichols is now open on the fifth floor for breakfast, lunch, afternoon tea and nibbles from 9am-7pm on Monday to Saturday, and 12-6pm on Sundays.
(First seen on Foodepedia)