12a Berkeley Square House, Berkeley Square, London W1J 6BS www.benaresrestaurant.com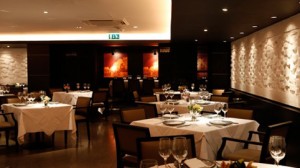 Writing about a Michelin-starred take-away is surprisingly hard, especially when I can't quite decide if it exists. You see Benares at Berkeley Square, the Michelin-starred Indian restaurant of chef Atul Kochhar, has been offering a lunchtime take-away service for a few months now.
For £6.50, you can buy a wrap made in the kitchens of Benares. So effectively you would have a Michelin-starred lunch for just £6.50. And there are four flavours to choose from: chicken tikka with wasabi mayo, lamb seekh with red onion and mint chutney, tandoori prawn with tomato and honey and mustard mayo or paneer tikka with Granny Smith apple and pineapple chutney.
I had the chicken tikka with wasabi mayo.
On paper, an Indian and Japanese fusion just shouldn't work. When I tried it though, I really enjoyed it. The filling was tightly bound in a flatbread, which in my opinion is the best thing for making wraps as it has more bite and it doesn't rip so easily. The spices used in the chicken tikka were just mellow enough for it to be softly smokey and the wasabi mayo was almost minty. The two blended together rather well to create something which wasn't exactly Indian or Japanese but nice all the same.
It didn't fall apart as soon as I started eating it and there wasn't sauces dripping everywhere. Given that it has successfully avoided the two pitfalls of wraps and it tasted so good, it definitely gets my vote for a lunch time treat. I guess it's to be expected from Atul Kochhar, the first Indian chef to receive a Michelin star. He is known for his reinvention of Indian food after all.
But surely the Michelin star is based on both the restaurant and the food? In which case my lunch time setting is very far removed from the interiors of Benares. And the only service I would be receiving would be while making my telephone order and when collecting the wrap. If I worked in Berkeley Square, they would deliver it to my office free of charge. But as it happens, I do not.
So perhaps it's not possible to have a Michelin-starred take-away.