1 Green's Court, Soho, London W1F 0HA www.yalla-yalla.co.uk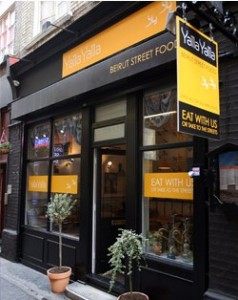 When organising an event with a large group of friends, you always expect a couple of people to drop out at the last minute. On some very rare occasions, you actually get more than you bargained for. Our visit to Yalla Yalla was precisely this.
About a month or so before the event in question, I started browsing for places to eat. Somewhere with a good reputation but was also relatively inexpensive. In particular, it needed to be able to cater for a large group and still be relatively intimate. In central London, that's no small feat. There are plenty of choice private dining rooms around, but all with price tags to match.
A quick browse through a few reviews soon confirmed Yalla Yalla as a prime candidate. Booking a table though, was a bit of a nightmare – Yalla Yalla only does bookings for groups of 10 or more and it felt near impossible to get through to anyone on the phone. It's also the sort of place that's impossibly busy all the time and even more difficult to get a table without booking.
Eventually, table booked and guest list sorted, the day arrived.
The trouble with a place as busy as this is that if you do somehow arrive early, you'll just get turned away and be told to come back later. Despite a packed restaurant though, it somehow emptied out just as we returned. Clearly the staff were very good at estimating table times. They were also more than accommodating when it turned out that we were three over the booked number despite people dropping out last minute. Typical eh?
After a lot of sucking in and shuffling around we all finally fitted around the space arranged for us, but perhaps scaring a few other guests along the way. I half expected the staff to be at the end of their tether with us but they happily laughed at our lame jokes as they brought the food.
The food was really spot on for a set menu. Rather than everyone having their own dish, vegetarians aside, the mezzes and mains were all for sharing. The mezzes we had were hommos, baba ghanouj, tabbouleh, kibbé lamb and sawda djej; all served with toasted pitta bread and all delicious. For main, we had mixed grills (chicken skewer, lamb and kafta with vermicelli rice, grilled tomato,sumac and onion salad) and moussakaa for the vegetarians.
The pièce de résistance, though, has got to be the birthday cake that the staff helped to tuck away behind the counter until the last minute. Could a girl wish for a better ending to a perfect meal? I certainly can't complain. If anything, the staff should be complaining at me for my terrible organisation.