This is a recipe from the Michel Roux Jr and Bordeaux wine partnership
Choose a good quality puff pastry made with butter, this is a luxurious feast that is great served warm but equally good cold. Perfect for a hamper.
Serves 6-8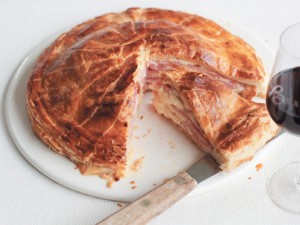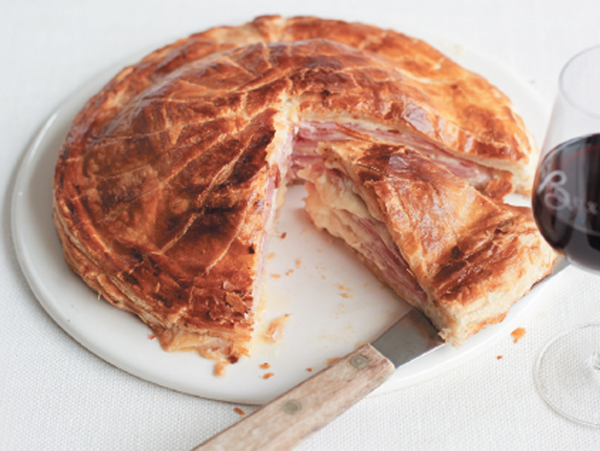 Ingredients:
375g puff pastry
1 egg, beaten
50g mature cheddar, grated
150g Gruyère or similar, grated
700g good quality cooked ham, sliced thin
For the Béchamel Sauce:
25g butter
25g flour
150ml milk
50ml double cream
Salt, pepper and nutmeg
Method:
First, make the béchamel by melting the butter in a saucepan until it foams. Mix in the flour and gently cook over a low heat for 4-5mins, not allowing it to colour. With the pan still on the heat, slowly whisk in the milk and cream, then increase the heat and bring to the boil.
Keep mixing well to avoid lumps and burning – the sauce should be quite thick. Season lightly with salt but quite generously with pepper and nutmeg.
Pour into a container and cover with a buttered paper to avoid a crust forming. Set the béchamel aside to cool down completely.
On a lightly floured surface, roll out half of the pastry to a rough circle, about 24cm wide. Roll out another circle about 26cm wide. Cover this one and keep it cold.
Preheat the oven to 200°C. Place the first pastry circle on a baking tray, brush the edges with beaten egg and put a spoonful of béchamel in the centre of the circle. Spread this over the pastry with a pallet knife or the back of the spoon to within 3-4cm of the edges.
Sprinkle over a little cheese, followed by some ham. Repeat these layers until all the ham, cheese and béchamel have been used up.
Cover the filling with the other sheet of pastry and press down firmly around the edges to seal. Trim the edges neatly, brush with beaten egg and score the top with the point of a knife to decorate.
Make a little hole in the centre of the top of the pie to let out the steam.
Bake at 200°C for 30mins, then turn the oven down to 180°C and cook for another 15mins.
Leave the pie to cool for at least 30mins before cutting into slices.
My Bordeaux Wine Pick: Bordeaux / Bordeaux Supérieur
An everyday wine for an everyday dish, the simplicity of this delicious family favourite can only be improved by the uncomplicated, crowd pleasing qualities of Bordeaux rouge. Easy drinking, full of fruit, yet perfectly balanced to complement rather than overpower food.