Californian winemakers Turning Leaf have recently launched their "Discover the Colour" campaign to present their portfolio of five wines as expressions of colour. To be precise, Turning Leaf's oenologist Stephanie Edge has teamed up with Dutch chef Esther Röling to create a new series of colourful recipes designed to match the Turning Leaf wines throughout the seasons. I was invited to sample their selection of wines and some of the summery dishes to match.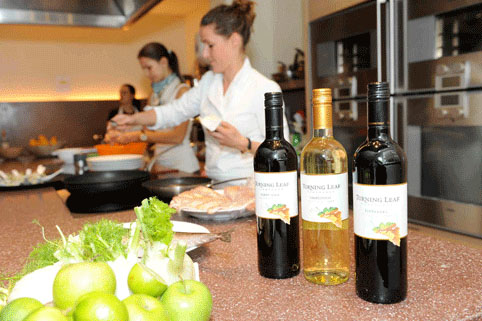 The concept itself is quite interesting. When you start thinking about wines, there seems to be only red and white. But as you explore the different grapes and regions, you soon realise that there are a lot of different shades within the spectrum of red and white with subtle nuances of flavour and aroma.
The five Turning Leaf wines, a mixture of red and white, make great everyday wines but when matched with the vibrant dishes, they really do evoke colour. Esther was on hand to cook up three dishes for us and it was easy to see the colours on the plate.
The first dish we tried was a pan fried mackerel with lime oil, fennel and green apple salad. It was a really summery recipe, with lots of green ingredients, matched to their fruity Pinot Grigio. The next dish we had, red mullet with Moroccan couscous, was more golden. It signified a change in the season, moving towards the autumnal. The second wine was a fuller bodied Chardonnay which was almost richly caramel in taste. Despite both being white wines, the colours they have been portrayed are very different and it definitely echoes their different characteristics.
Then it was on to the portfolio of reds.
The Pinot Noir stepped up first and was matched with a pan-fried quail with purple beetroot, which we didn't get to try. The wine is said to be filled with dark cherry and raspberry flavours and the purple beetroot certainly matches those colours well. The final dish that we sampled was a beef carpaccio with rye bread crumb, designed for the Cabernet Sauvignon. The beef lended plenty of support for the full bodied Cabernet Sauvignon and the two together created a ruby red illusion. The last wine in the portfolio was a Zinfandel, matched with a wintry slow-cooked veal with winter vegetable purée. Zinfandel is probably generally better known in rosés but in this case it was a red wine, which with the matched dish should give that orange glow of late autumn and early winter.
And that makes the complete portfolio of Turning Leaf wines – Pinot Grigio (green), Chardonnay (golden), Pinot Noir (purple), Cabernet Sauvignon (red) and Zinfandel (orange). All that's left was to finish the last of the colourful food, enjoy the wine before heading home to try the recipe myself.
(First seen on Foodepedia)