They say that cocktails are great lubricators of conversation and amazing catalysts for fun times. True, but they should do all that and more. Cocktails should inspire you. And, when drinking fabulous cocktails, one should expect the venue to be as interesting as the cocktail itself. Why would you want to sip an outstanding drink somewhere that's duller than the patina on a Bronze Age statuette? It would be like drinking Château Latour 1982 with your blueberry pancakes in a shed-like Texan diner: utterly unthinkable.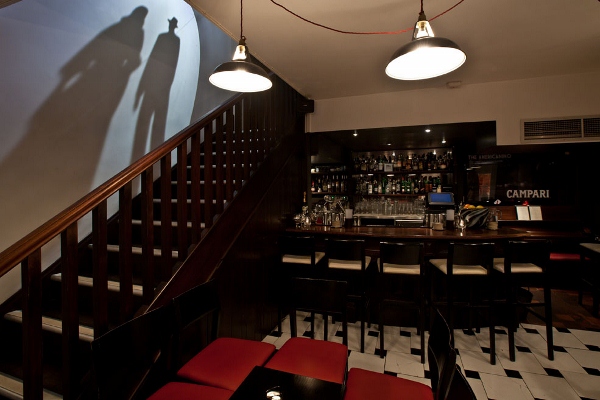 So, here are some suggestions for suitable venues in which to imbibe a cocktail or three. Let's start with something gentle to ease you in.
I say gentle but it's really quite dramatic. Good Godfrey's at the Waldorf is the epitome of the glamorous hotel bar with a West End twist. In fact, it's positively theatrical. Nestled among the cream of the theatrical crop, the bar screams opulence with its original, listed panelling and illuminated marble and chrome fixtures. It's named after Howard Godfrey, the bandleader of the 'Waldorfians' house band back in the 1920s – and everything else is inspired by drama.
Take Very Very Pretty; the name is a reference to the only stipulation of the 'Gaiety Girls', performers at the neighbouring Gaiety Theatre, who didn't require any particular skills. And Thé Dansant, inspired by the tea dances at the Waldorf's Palm Court. Then there's the Hot Gin Punch and the Astor Hip Flask, which are served up in a giant teapot and a hip flask respectively. All, rest assured, are expertly created by the award-winning Nelson Bernardes.
Elsewhere on our map there is something thoroughly modern. Not the Millie but The Folly, a garden-themed venue with multiple bars and endless space for eating and drinking. It's probably the biggest venue within the Square Mile and it could be the greenest place in EC3 too with its Norwegian Spruce tree trunk at the bar, the plant pot lighting over the restaurant and the potted plants in the deli-come-bar. You can pick up a gardening kit with your customised cocktail or a bunch of flowers with your sandwiches. And that's just upstairs; there's another whole level downstairs with even more subtly different pockets of microcosms.
Those conscious of alcohol calories will be pleased to hear that there's a range of 'skinnies' to choose from, complete with calorie count to help you make an Informed Decision. The Watermelon and Raspberry Ripple is simply bursting with health, but the Ziggy is the one that's been created by Ezekiel Maledon at The Folly – call it the house special. If you want something outrageously left-field though, there's always the Thai Tini – it comes with a prawn.
Speaking of left-field, the London Cocktail Club has a courageous cocktail list with a décor to match. Where else can you enjoy a Bacon and Egg Coupet under spidery glow lights? The LCC is tucked away in a Goodge Street cellar space, but there's also a sister venue on Great Newport Street called The Covent Garden Cocktail Club (which was formerly, and confusingly, also called the London Cocktail Club). Although each venue has its own unique character, both follow "that classic LCC/CGCC theme". I'm still trying to work out what that is exactly but their outrageous wall paper and extensive cocktail list simply intoxicate me; the Brixton Riot (peach, cranberry and lychee liqueur, flamed with Wray & Nephew overproof rum) is a real flaming eye opener.
It seems that every other cocktail here comes with a helping of food for garnishing (bacon, bread, shortbread, ice cream and so on), but if you did fancy something a bit more substantial, the bar snacks are Raymond Blanc-approved. That is, the LCC co-owners JJ Goodman and James Hopkins were the winners of the third series of the BBC's The Restaurant and have since been working with Raymond and other notables to create these unexpected cocktail clubs.
If the upstairs lounge is more your thing then you might enjoy Tempo, the Curzon Street Italian. It speaks Mayfair in volumes in the restaurant downstairs but the first floor bar is a whole different Regency period, all decked out in original Rococo Revival panelling and mouldings. The plush and contemporary seating will leave you in no doubt over the modernity of your cocktail. The Tempo Punch isn't bad and the Basil Grande adds something extra to your strawberry purée – ground black pepper and basil to be precise – but there is one cocktail that defines this venue: the Mayfair Gem.
There's a gem in the East End too. When you walk down Rivington Street in search of the double C of Callooh Callay, you'll probably wonder what could possibly entice anyone not wearing brogues, skinny jeans and an oversized t-shirt with safety-pinned sleeves to tackle this part of town. It's in the heart of Shoreditch with The 100 Club in one direction and some 'invitation by word-of-mouth only' abandoned warehouse rave in the other. But when you brush past the bouncers, doing your best to refrain from attempting a secret nod, and push through the heavy double doors, it's all shirts and frocks inside.
The first room will be so dark that you'll barely be able to read their outlandish menus but even if you could, you won't be sure what you're going to get. What does violet liqueur taste like anyway? Beets Me! is the thing to have either in the back room (much brighter) or upstairs in the Jub Jub bar (the seats are velvety). Of course, if you are a member of the Jub Jub bar – and that helps if you hope to get into Callooh Callay when it's really busy – you could always order something on the Jub Jub menu or go off-piste.
After all the dimly lit venues you will need The Botanist on Sloane Square. The quirky 'nature' theme here is subtle and reminiscent of sunny days out in Kew Gardens except, instead of the sun, there's floor-to-ceiling glass to make the most of that natural light streaming in from the similarly proportioned windows, and the plants engraving the walls give all the air of botany without any of the hassle of hayfever.
Of course, that is not to say that it doesn't offer the usual trappings of Sloane Square. After all, more than a few young Royals have been spotted propping up the bar.
That fact has definitely rubbed off a little on the cocktail menu, with the suggestively named Indigo Royale and God Save the Quince. I'm partial to a little Tea House Martini myself, but I hear the non-alcoholic (gasp!) Boost is also a popular choice. Should you happen to find yourself ravenous and the attractive clientèle not quite sating your hunger, there's always the option of eating from the bar menu or popping next door into the restaurant.
Similarly Royal-inclined is Awana, down the road. The gourmet Malaysian restaurant has a bijoux alcove opposite a well-furnished bar looking out onto Sloane Avenue. If you're not a member, this is the perfect place to spot who's stumbling in and out of Bart's next door while sipping on cocktails and enjoying a satay something. (I hear Prince Harry has been seen deep in conversation with a 'mystery caller'.) The house classic is Havana-Banana-Awana but if that's a bit of mouthful, go for Blooming Hibiscus.
For something that's a bit more grown up, maybe even old fashioned, try the bar at The Zetter Townhouse (ZTH for those down with acronyms). It's the latest venture of Tony Conigliaro, the man behind the now infamous and award-winning bar with no name at 69 Colebrooke Row, in collaboration with The Zetter. Inside is a boudoir of dramatic nick-nacks including taxidermy and old paintings. The dolled-up cat is a bit disconcerting and you wouldn't want to get into a boxing match with the kangaroo on your way to the bedrooms after one too many, but the staff have the most adorable little outfits; you'd wish they were minuscule enough to pop into your pocket and take home. Figurines should definitely be the next thing on their agenda.
The Master at Arms is the drink created for ZTH, which will be adored by all port lovers, but the Harvard is just that bit more aromatic. If you discover their games room with the ping pong table, you will almost certainly need reinforcements. The food at ZTH is provided by Bruno Loubet, chef/patron of Bistro Bruno Loubet just across the square. In fact, you can probably spot him dashing between the two once in a while. The charcuterie platter is particularly good, but just make sure you order plenty of bread.
Of course if you don't mind venturing further afield, the bar with no name comes highly recommended, by everyone. In the lab above 69 Colebrooke Row, Tony concocts some of the most interesting cocktails around. With mini distillation devices and water baths to play with, there's certainly a lot of experimenting going on. There's even a Manhattan up there that's five years in the making. The menu is completely different from ZTH, of course. If it wasn't so seasonal I could drink the Rhubarb and Hibiscus Bellini forever, but for now there's a Lipstick Rose and a Liquorice Whisky Sour to keep me company.
Now that you have a handful of recommendations to take you through at least a week and half, I hope, go forth and explore. But please, report back interesting findings. And do drink responsibly; fabulous cocktails aren't made for binging, you know.
Good Godfrey's, The Waldorf Hilton, Aldwych, WC2B 4DD. Tel. 020 7836 2400. Website.
The Folly, 41 Gracechurch St, EC3V 0BT. Tel. 0845 468 0102. Website.
The London Cocktail Club, 61 Goodge St, W1T 1TL. Tel. 020 7580 1960. Website.
The Covent Garden Cocktail Club, 6-7 Great Newport Street, WC2H 7JA. Tel. 020 7836 9533. Website.
Tempo,  54 Curzon Street, W1J 8PG. Tel. 020 7629 2742. Website.
Callooh Callay, 65 Rivington Street,  EC2A 3AY. Tel. 020 7739 4781. Website.
The Botanist, 7 Sloane Square, SW1W 8EE. Tel. 020 7730 0077. Website.
Awana, 85 Sloane Avenue, SW3 3DX. Tel. 020 7584 8880. Website.
The Zetter Townhouse, 49-50 St John's Square, EC1V 4JJ. Tel. 020 7324 4545. Website.
69 Colebrooke Row (the bar with no name),  N1 8AA. Tel: 07540 528 593. Website.
(First seen on The Arbuturian)