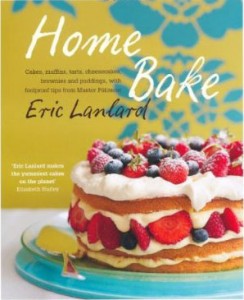 Eric Lanlard's new book Home Bake looks too good. So good in fact, it's almost obscene.
That's the conclusion I've come to after some two weeks of picking it up, flipping through the pages and mulling over what I thought of it. You see, every time I thought of something to write, I got distracted by the brilliant photography. Photographs of some of the yummiest cakes, tarts and puds I've ever seen. Then I would get hungry and go off in search of something to curb my recently acquired insatiable appetite.
And just because it looks fanciful, doesn't mean that it's without authority. Master Patissier Eric Lanlard is the owner and cake making extraordinaire of the critically acclaimed Cake Boy in Battersea. Twice the winner of Continental Patissier at the British Baking Awards, Lanlard also has quite the A-list following, counting the likes of Madonna and Liz Hurley amongst his clients.
So just what is so special about this book? Well the book has recipes for everything from the standard sponge cake to meringues, cheesecakes and tarts; but not in the shape and form that you would usually expect to find them. Every recipe has an introduction by Lanlard and there is stunning photography to accompany almost all the recipes; some even have step by step images to complement the detailed instructions.
The apple tart with quince, for example, looks good enough to eat off the page. The lemon meringue cupcakes would be a real treat with a nice pot of tea. Of course then there is the bejewelled tower on the cover, a plain Genoise sponge. And how can I not be impressed with the first book that teaches me how to make marshmallows?
Its audience, as the book's title suggests, is for the home cook and when you look through the recipes you certainly feel that you have been held by the hand. But it's also more than that. It's a collection of recipes that Lanlard likes to use himself at home, something that's different from the cakes found at his Battersea emporium.
Given the wonderfully clear layout, fresh design and tips here and there, it's certainly very appealing and an easy read. With this book in hand, home baking is set to become very glamorous indeed. Who said home baking had to be boring anyway?
(First seen on Foodepedia)