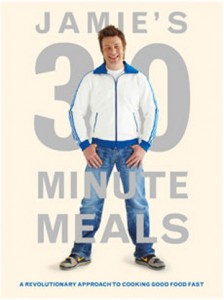 As the book that accompanies Jamie Oliver's Channel Four series of the same title, Jamie's 30-Minute Meals has received a lot of publicity. Lots of people (including Guardian columnists) have tried cooking along with the show and failed. I too have watched in awe as Oliver apparently peeled and chopped an entire tray of fruit in about two minutes, gawping at the impossibility of the task at hand. And yet here I am testing out the paper version.
When I first got the book, I was overwhelmed and underwhelmed all at the same time. The recipes were uncomplicated but also unglamorous. Don't get me wrong, they looked fantastically tasty but in that rustic Jamie Oliver kind of way. Plus, they were just every day recipes, nothing extraordinarily fancy.
There were a lot of recipes though – 50 meals worth in fact. Each meal is made up of a main, a side and generally a dessert for upwards of four people. That's basically a casual dinner party in 30 minutes – an impressive feat. It was also a varied selection of recipes from different cuisines, albeit not authentic. As one of my tasters pointed out, Cypriots don't stuff their chicken.
Browsing through the recipes, I was convinced I could do it. These were simple dishes, what could go wrong?
Choosing the meal to cook was hard. I was looking for something different from what I had been eating during the rest of the week, something a little bit challenging and I definitely wanted a dessert. The meal I chose was chicken skewers with amazing satay sauce, fiery noodle salad and fruit and mint sugar to finish.
Finding the ingredients was easy enough but having all of the equipment was a little harder. Specifically, I only had a hand blender and not a food processor and an oven not a grill. Small things, you might think, but actually contributed a lot to the time taken.
With ingredients and equipment at the ready, the timer was set and off I went chopping and bashing through the kitchen spilling nuts everywhere, stabbing myself with the skewers and burning my arm on the oven tray. It wasn't so much that the recipe demanded it, but rather the little voice in the back of my head telling me to move faster. That and my tasters standing at the side counting down the minutes like a live episode of Ready Steady Cook. Except I was no chef and checking the recipe every two minutes was using up all of my time.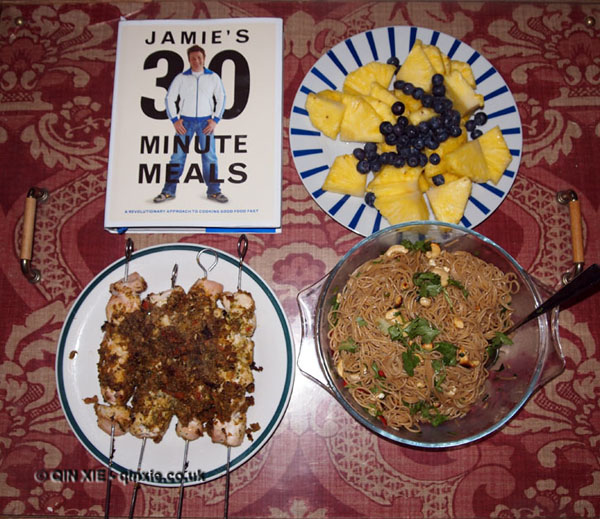 Mid-way through the whole process I was not impressed by the book at all. Why hasn't Jamie created a time plan so I actually know what I'm meant to be doing rather than scanning through paragraphs of stuff to find the next? Already, I had declared that if this meal tastes terrible then it's all Jamie's fault and if it goes okay, obviously the credit is due to my hard work.
As the timer approached 30 minutes, my chicken skewers were still in the oven nowhere near done. There were also a couple of handfuls of herbs to chop, nuts to sprinkle and sauce to drizzle. But surprisingly, chicken aside, I basically had a meal ready. While waiting for the chicken, I had time to clean up the kitchen and do a little washing up, which by now had piled up considerably high. Realistically from start to finish, the whole thing was a 45 minute bumpy ride. That said, if I was familiar with the recipe and had a grill then I'm sure that extra 15 minutes can be shaved off.
When the food eventually made it to table, it was gone pretty quickly. It could just be my hungry diners finally getting to indulge on that late lunch but the feedback was "you have permission to make that again".
The real debate was perhaps whether it was Jamie's achievement or mine. But love him or hate him, this 14th book from Jamie Oliver is a sure sign that he's here to stay.
(First seen on Foodepedia)