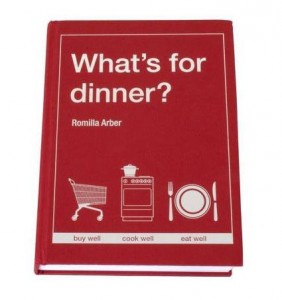 "What's for dinner?" That's a question asked approximately two minutes after the confirmation of lunch on the table in my house. The answer to that question isn't a light one. At least not for Romilla Arber who tried to address it with her 656 page début, What's for Dinner?.
On first look, the book has everything – seasonal recipes, weekly shopping lists, helpful hints and a handy bookmark, complete with conversion tables. With a book of this scale, would you ever need any other cookbook? And it's not just a simple cookbook either. The profits from sales goes towards funding Arber's charity, the Food Education Trust, which aims to teach children and adults basic cooking skills as well as the benefits of healthy eating. Not a bad concept.
But upon closer inspection, it's hard not to question the contents of the book. It's certainly surprising, given the charity the book supports, that oddly enough there's no explanation of any basic cooking skills.
As a time-saving meal planning bible for the family, it should definitely be applauded. For starters, there are just so many recipes to choose from. Arber has also recognised that no family meal would be complete without puds and treats so each week there is a recipe, or two, for a little something sweet.
With the book divided into months, albeit nominally, it's easy to stay seasonal without worrying about what may or may not be on the shelves. The weekly shopping lists will certainly come in handy for anyone too busy to work out what they need to buy from week to week. That said, if you don't have a family of six like Arber, you will still need to scale the recipes, and therefore the shopping list accordingly.
This book is one woman's recipe binder, a book by a home cook, for the home cook.
(First seen on Foodepedia)