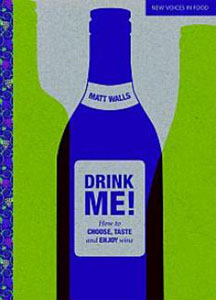 The Book Drink Me! How to Choose, Taste and Enjoy Wine
The Author Matt Walls is a wine writer, blogger and consultant. www.mattwalls.co.uk
The Publisher Quadrille Publishing
The Release date 24th May 2012
Who's it for? People who are new to the world of wine will love this book. It covers many of the topics you might learn on a WSET course but in phraseology that even wine novices will understand.
What you'll find inside The book is split into two parts. Part one is all about how to buy, taste and drink wine while part two is a very concise guide to different wine regions.
What's missing Although the book serves as an introduction to wine, and there are some really interesting inspirations for further exploration, many of the country profiles felt far too brief. Definitely room for expansion for the wine hungry.
The best bit The format of the book, like the content, is extremely approachable and peppered with illustrations and wit.
The Price (RRP) £12.99