192 Acre Lane Brixton, London SW2 5UL www.boqueriatapas.com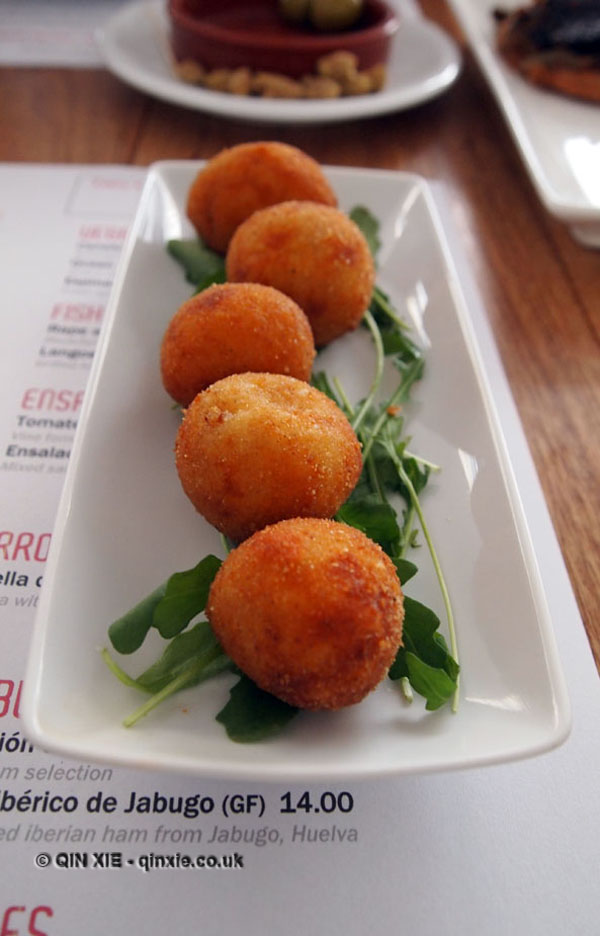 Despite the substantial number of British tourists who visit Mallorca each year, its cuisine isn't well-known in the UK. Owing to the large number of resorts catering to the all-inclusive market, it's often seen as somewhere sunny by the sea that offers cheap and cheerful touristy food.
Actually, Mallorca produces its own cheese, honey, charcuterie and even wine. In fact, there are several vineyards on the island producing some rather good tipples. Mallorca Week in London, organised by Rachel McCormack, revealed just what the island can offer and gave me the opportunity to sample some Mallorcan fare over lunch at Boqueria.
The Brixton restaurant, self-proclaimed London's most exciting tapas bar, was recently voted Time Out's "best new cheap eats" this year. Their menu usually features classic tapas dishes such as patatas bravas and calamares a la romana alongside some small plate meat and fish dishes. For Mallorca week, Boqueria also incorporated a small selection of Mallorcan bites created by guest chef Oscar Martinez.
We ordered a selection of tapas from the Mallorca menu as well as the Boqueria menu to accompany two Mallorca wines; Som Fangos and Butibalausi, both 2011 vintage from Pla I Levant.
Som Fangos was a blend of merlot, syrah and cabernet sauvignon while Butibalausi was an organic cabernet sauvignon. Both were full-bodied with medium tannins and light spice – perfect for the blend of tomatoes and Mallorcan spice that's served up.
We started with "dip" cremoso de sobrasada (spicy sausage dip with chips); coca cebolla, setas y piñones con butifarrón (pizza with mushrooms, onion, pine nuts and sausage) and Martinez's version of Pa amb oli (fried breadcrumbs with tomatoes and herbs served in a cocktail glass). The classic Spanish combination of meat and paprika was perfect for titillating the taste buds. Delivery wasn't always so easy though – the coca base was a little on the tough side and the Pa amb oli, though beautifully presented, was pretty difficult to share when armed with knife and fork.
Nevertheless, our interests were piqued for the delicious onslaught that came next.
Paletilla de cordero rellena de sobrasada con "tumbet" al jugo de miel y romero (lamb medallions stuffed with tumbet in a honey and rosemary sauce); cheese croquetas; and cochinillo asado (suckling pig with parsnip, sweet potato crisps, apple sauce and lemon sorbet) served as the main. The meats were perfect melting servings that tore away into bitesize servings with the gentlest of nudges while the light spice and acidity balanced well against the wine.
For dessert, two Mallorcan options were available so we went for both. The crema de naranja con tierra de Almendra y crema montada de chocolate blanco y té (orange mousse with ground almonds on a base of white chocolate and tea) pronounced heavy notes of thick-cut marmalades while the yogur de "ensaimada" con mermelada de higos (ensaimada yoghurt with fig marmalade) provided creamy contrast. Two polar opposites but somehow both distinctively reminiscent of Christmas.
The meal offered an interesting insight into how a typical Mallorcan meal might compare to the Spanish fare offered at Boqueria. The Mallorcan dishes kept close to the classic Spanish flavours by using local ingredients like Mallorcan sausages, honey and olive oil, which would be great for nibbling with a cold beer in the hot sun or indeed sheltering from the cold with a glass of Mallorcan red in the cosy warmth of Boqueria.
The Boqueria dishes felt modern and I couldn't help but think that they had a touch of Britishness about them. But that's not necessarily a bad thing.
As we left, we caught up with a few fellow foodies at the bar and realised that the "Escaldums" de pollo con ciruelas ("Escaldums" chicken and almond stew with plums) we ordered never came. I wonder what that's like; delicious no doubt.