It might be wintry outside but it's mighty hard to forget the summer. I've been invited to create a "winter-warmer" recipe using Good Natured's Splendid Spuds so here it is, with a side serving of summer.
Serves 4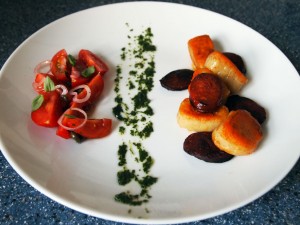 Ingredients:
Potato gnocchi:
450g potatoes (supplied by Good Natured)
100g plain flour
1 egg yolk
100g Parmesan
Tomato salad:
180g baby plum tomatoes
Dressing: (to taste but…)
½ shallot
1tsp capers
80ml basil oil
20ml white wine vinegar
salt and pepper to taste
Basil oil:
300ml olive oil
bunch of basil
To serve:
a length of chorizo
baby basil leaves for garnish
grated Parmesan
Method:
To make the gnocchi:
Pierce the potatoes several times with a skewer before baking them at 200ºC until cooked – approximately an hour depending on size.
Halve the potatoes and scoop out the middle then pass it through a ricer or use a potato masher.
Mix the mashed potato with the flour, egg yolk and Parmesan and knead lightly into a dough.
Work in sections, roll the dough to tubes the thickness of a sausage and cut with a floured knife at 1.5cm intervals. Shape if desired.
Dress the gnocchi in semolina to prevent them sticking until you're ready to cook.
To make the basil oil:
Heat and warm the olive oil and the picked basil but don't cook it.
Allow to cool slightly before blending to smooth.
Filter the oil if desired.
To make the tomato salad:
Make the dressing first – finely slice the shallot and add to the other ingredients to emulsify. Add salt and pepper last to adjust for taste.
Quarter the tomatoes before dressing.
To serve:
Cook the gnocchi in boiling water like pasta – they are ready when they float to the surface.
Drain cooked gnocchi and coat with the basil oil to prevent sticking.
Cut the chorizo into coin-sized medallions before frying with the cooked gnocchi.
When both the chorizo and the gnocchi are crispy, you're ready to plate up.
To plate up:
Brush basil oil down the middle of the warm plate.
Place the gnocchi and chorizo on one side and tomato salad on the other.
Garnish with baby basil leaves and grated Parmesan.