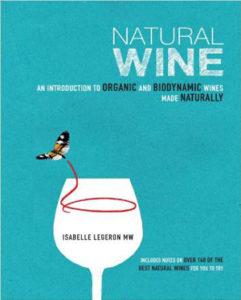 The Book Natural Wine: An introduction to organic and biodynamic wines made naturally
The Author Isabelle Legeron MW is a writer, presenter and organiser of RAW fair www.thatcrazyfrenchwoman.com
The Publisher CICO Books
The Release date10th July 2014
Who's it for? If you're new to the natural wine world and want to learn from one of the foremost advocates of natural wine then this is the perfect resource.
What you'll find inside The book defines natural wine as wine made with nothing added and nothing taken away but the approach encompasses the whole natural wine lifestyle. From anecdotes about tapping for birch sap and making herbal tinctures to milling your own flour and making bread, you'll gain an insight into this often misunderstood world.
What's missing The book serves as an introduction to the topic so there's no real depth. However, Legeron does list additional books and resources if you want to delve further.
The best bit The sizeable book is a surprisingly easy read and without being too aggressive, it inspires a desire in the reader to live more naturally.
The Price (RRP) £16.99