21-22 Warwick St London W1B 5NE www.nopi-restaurant.com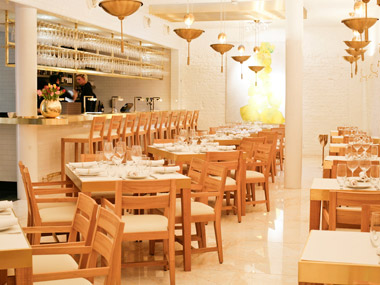 I think the best way to start is by saying that I've never taken so many photos of what I ate at a single restaurant.
It's safe to say that I was encouraged by my friend who came with me. Her first question when we sat down was: "Are you one of those people who takes pictures of everything they eat?"
I felt a little embarrassed. While it's true that I write about food, it's also generally the case that I am better at eating it than holding back to take photos. As I have been hearing only rave reviews about Yotam Ottolenghi for some time now, and in particular about his book Plenty, so I was pretty excited about visiting his restaurant for the first time. And a new restaurant no less – there was definitely little room for holding back.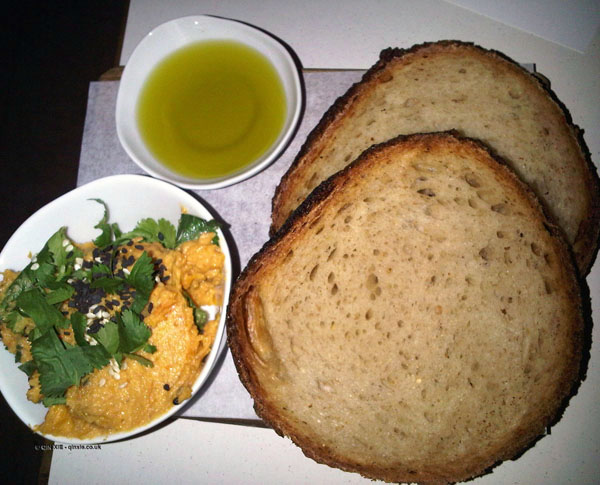 "Errr, not really," came the hesitant reply accompanied by a nervous smile, "but I could be?"
Of course once the food began to arrive, it was a completely different story. Drinks were being topped up and bread was served with a butternut squash dip and olive oil. And there I was busy snapping away while at the same time apologising and taking back every bit of cool I tried to exude earlier.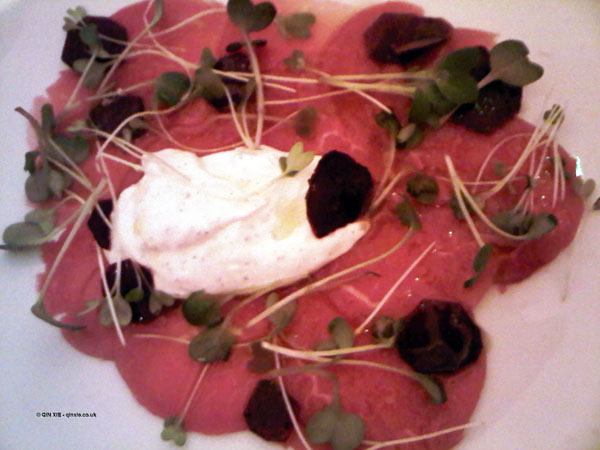 The food, like my rose veal carpaccio with beetroot and kashk, looked pretty good. It tasted good too and was gone in seconds leaving me wanting more. And that wasn't down to being served on a fancy Royal Doulton plate, because it wasn't. It was extraordinary food on regular white plates.
Actually, the dishes were in-between sizes in that they were too big to call tapas and too small to call "real" portions. The recommendation was three savoury dishes per person. We ordered two and half savoury dishes each (we shared one) plus dessert.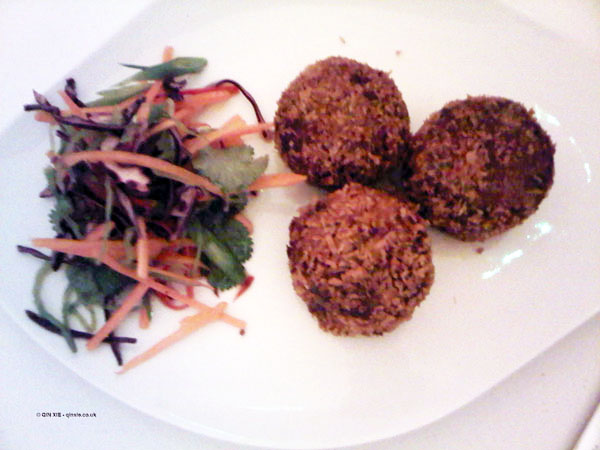 The first of my friend's dish to arrive was the beef brisket with Asian slaw. It was cooked perfectly although a little salty.
The whole operation was quite confusing actually as we had hoped to just have everything on the table at the same time but for some reason it had to come one after the other. I had heard a rumour that it was so that food that matched would arrive together but as we weren't really sharing, it shouldn't matter. We waited nonetheless, and there was a lot of waiting in between courses. But I suppose you expect a couple of hiccups during a soft launch.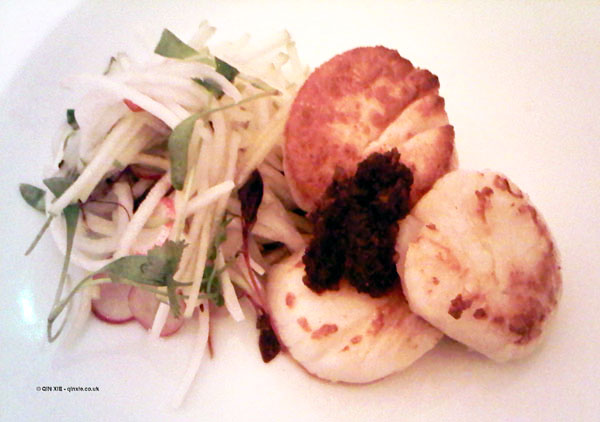 Next up was seared scallops with pickled daikon and green apple for me and braised lamb belly with mixed mushrooms and sumac. Now scallops I love having had it cooked to perfection at many an event so I had to order it. But unfortunately like the brisket, it was cooked to perfection but over seasoned. The daikon and the apple helped a lot in playing down the salt but it wasn't really enough. There were no complaints about the lamb belly though.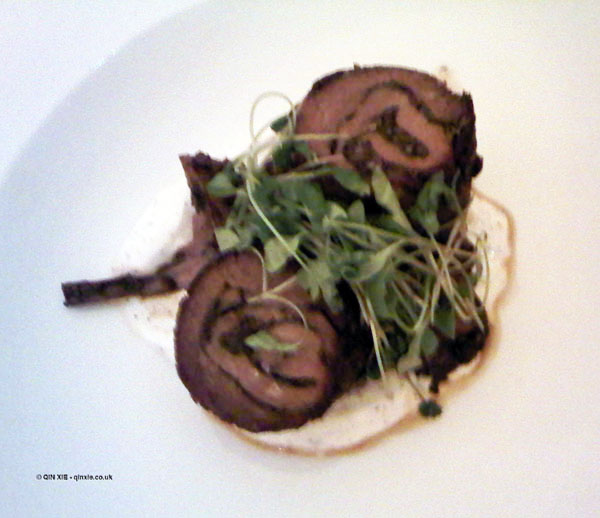 Following this course was yet more waiting. We drank a lot of water and talked about the toilets. Indeed the toilets at Nopi have become a bit of a sensation with their extensive mirroring on the inside. Its crystalline brightness could even be said to be a reflection of the general décor of the restaurant – white with golden fixtures.
Finally our last savoury dish arrives and there is yet more confusion. We had ordered fondant swede gratin with savoy cabbage as a slight redemption towards our earlier less healthy efforts. It's probably not much healthier but it was on the veg menu and that's good enough as far as we're concerned.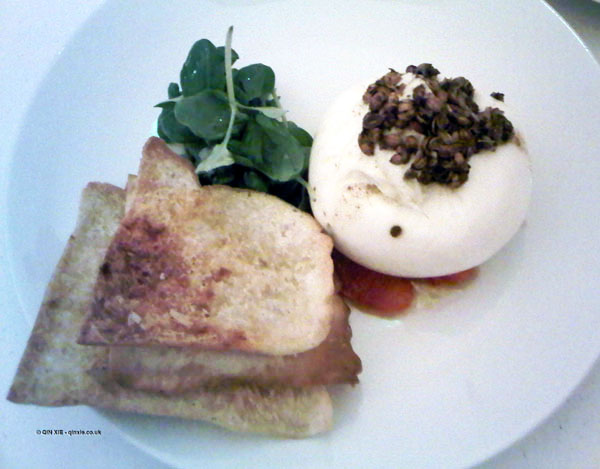 What arrived though, doesn't resemble gratin at all. We sat there for ages staring at it wondering what it could be.
"I think it's the burrata," I pip in, "do you mind? Or should I ask about our gratin?"
The consensus was that we were curious diners so we didn't want to kick up a fuss about getting the wrong dish. Besides, the burrata with blood orange and coriander seeds was going to be our other choice anyway. The gratin just pipped it to the post. The burrata was too mild to register much of an impact on my taste buds but the blood orange combination was really quite incredible – very refreshing and so juicy.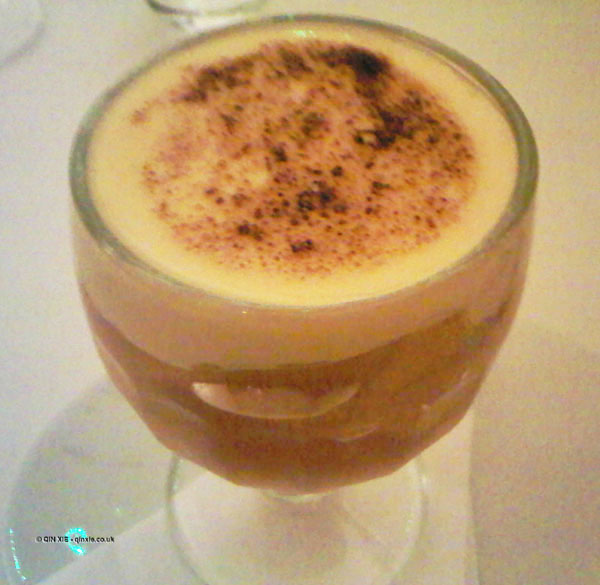 There was dessert to finish of course. Mine was quince with quince jelly and Vin Santo sabayon and my friend just had ice cream. For a dessert fanatic, the menu was only mildly stimulating. That said, they did do the quince justice.
"So," my friend asks at the end of the meal, "would you have come if it was full price?"
Well we went to Nopi when we did because it was the soft launch and there was 50% off. Had it been full price perhaps we would probably have waited for longer before dipping out toes. It's not that the food wasn't worth it. The food felt a little over-priced at times but some of it was very worth it and for London prices it was pretty good. But certainly I would have kicked up a fuss about our wrong order and maybe even our endless waiting.
"Hmmm," I say after lengthy analysis, "Yeah, maybe. But we've been now and paid only half the price."