80 Wardour Street, Westminster, London W1F 0TF www.wahaca.co.uk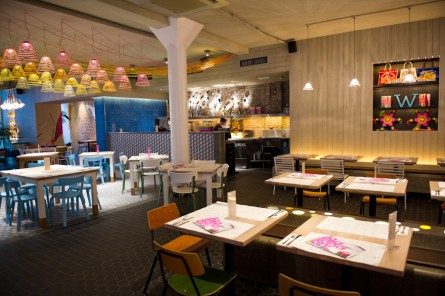 The last time I had really good Mexican food was in America – the kind that was so good, it remained with you for a long, long time. Back in the UK, whenever I rave about Mexican food in London, the name Wahaca comes up. And I've been hearing all good things about the chain that first opened in 2007 for a while now.
I actually had the opportunity to review Wahaca a little while ago but, as these things do, it was pushed back and I never got round to it. So tonight, while out looking for some post-cinema grub, walking past Wahaca, Soho, meant the perfect opportunity to go in and sample the goods.
The Soho branch is the latest to join the chain of Mexican restaurants by celebrity chef Thomasina Miers. And in case you didn't know, Tommi – as she's known in the trade, won Masterchef back in 2005 and is a very passionate advocate for Mexican food.
You know that the restaurant is going to be true to its market roots when you walk in and smell the food – and it smelt good to three hungry diners. Service was a little on the slow side but I guess that's to be expected of a restaurant that's still packed at 9pm on Tuesday night. It's not that there isn't enough space, it's simply that people are still streaming in well until 10pm.
To settle us in, we had a couple of drinks and gaucamole and corn chips. It's light enough to not take anything away from the main, and in my case it was a British steak burrito. The burrito is such a Mexican classic but it can go so wrong. In this case, it was just perfect. The burrito was tightly wrapped, full of flavour and it came with a side of corn chips with salsa. I'm not sure it matched my Mexican of mythical proportions from America but it was certainly pretty good. That said, it could have done with a little less cabbage and rice and a little more beans.
Despite the fact that we weren't very hungry, we were still somehow persuaded to have desserts. But when hot chocolate and churros are on the menu, it was pretty hard to resist. The hot chocolate was excellent, but the churros rather let the side down. It felt a bit too greasy and needed a sprinkle or two more of sugar.
Given the bustle of the restaurant, the slow service was acceptable. And in fact, our waitress was more than lovely – especially given the ridiculousness of my blue mouth (damn the raspberry slush). For the price? There is not question about going back – it was a thoroughly jolly good night.