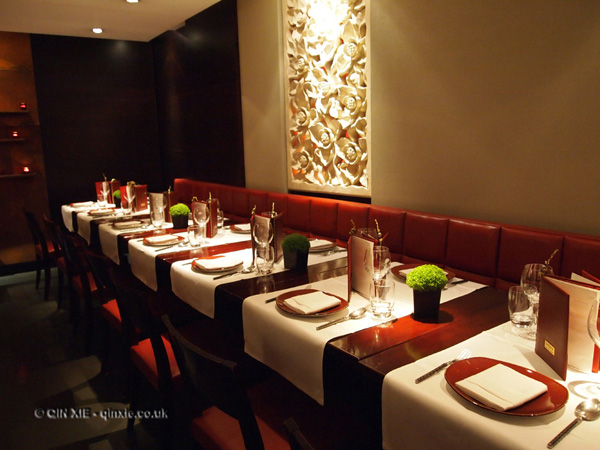 Expectations:
Thai restaurant Patara is full of Eastern promises. With four venues around London and more across the globe, it certainly has a good reputation and we were expecting a good feed. Food made with fresh ingredients and plenty of lemongrass and galangal was definitely top of that list, along with excellent service. Thais are known for their polite hospitality after all.
Experience:
Oysters were in season so a selection of their finest Maldon rocks was an obvious starter. The raw huîtres arrived perfectly shucked and ready to be doused with a refreshing mint, coriander and lemongrass liquor or, if you prefer, lemon or Thai vinaigrette. Their tender soda-battered counterparts have a more spicy edge with an accompaniment of chilli dip. Of course we couldn't neglect their signature dish miang guaytiew either, which was a delicate selection of rice paper rolls with prawn, crabmeat and five spiced duck.
For main, a grilled rack of lamb with sweet rice rolls and grilled black cod with ginger and pickled yellow bean sauce were richly accompanied by broccoli spears, pak choy leaves and shiitake mushrooms. It was a small banquet but a very healthy spread. From the selection of mostly European wines, we chose the Châteauneuf-du-Pape, Domain du Grand Tinel 2006 to wash it all down but their cocktails are equally excellent.
And there's nothing quite like pulling out all the stops for the final course with floral additions to both the crêpe pollamai and the tart sangkaya. Under the spot lighting, we weren't sure whether it was the desserts or the flowers that looked more delicious. So we had both.
Evaluation:
Patara offered a pleasing supper but we were also surprised by the modernity of their menu. The meticulous presentation of the dishes demonstrated a very Western approach but some things, like bowed greeting from the staff, was undeniably Thai. Go and expect to be sumptuously fed, even late at night.
(First seen on Blue Tomato)