This is a post in the Spotlight on: Oporto and the Douro Valley series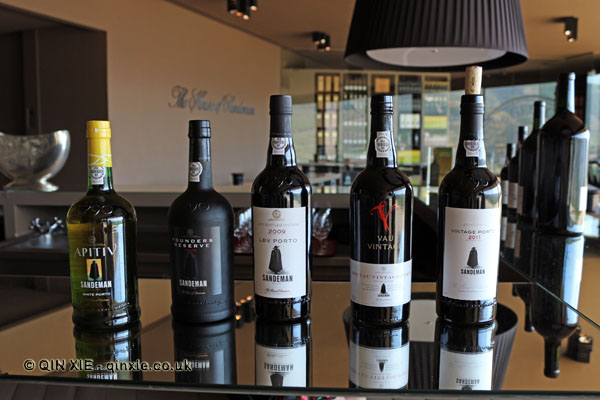 Quinta do Seixo (pronounced Saycho) is perhaps more readily recognisable as the winery where Sandeman port is produced. It's owned by Sogrape Vinhas, the same parent company which owns Mateus. Knowing this, I think, contributed towards the corporate feel of the Quinta.
Incredibly well organised and decorated, it's very much geared to receiving a large number of visitors. Case in point, three or four coaches, filled with Douro cruise visitors, made their way up the winding road, through the vineyards, to the Quinta while we were there. Then, like us, they would have received a video introduction followed by the Sandeman tour with a guide who's dressed as the Don.
This is just the visitor centre in the Douro Valley. There's another one at the Lodge on Vila Nova de Gaia.
Our tasting was more extended than an average consumer tasting but it began with a round of cocktails. Some intriguing and interesting combinations, which, while occasionally on the sweet side, was actually really rather good.
The first port we had was the Sandeman Apitiv White, a brownish amber off-dry port that's slightly oxidised, though not quite nutty, with notes of dried prunes. This, with an icy lemon sorbet, was dessert in a glass. The Sandeman Founder's Reserve, a reserve ruby style port, was an easy, fruity wine with a very dry finish. Refreshing though, in a citrusy wine cocktail.
On to the more serious ports, we had a Late Bottled Vintage 2009, a fruity and youthful wine with notes of blackberry and raisin. The Sandeman Vau Vintage 2000, with two years in the bottle, was much more fruity and complex, with orange peel and citric bittterness. And finally, the Sandeman Vintage 2011, a seriously intense wine with mouth puckering acidity and laden with smooth tannins, showed highlights of prune and raisin.