101 Buckingham Palace Road, Victoria, SW1W 0SJ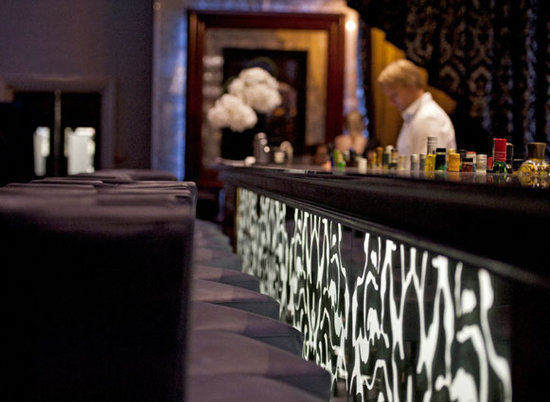 Réunion bar at The Grosvenor Hotel, not the French island in the Indian Ocean as you might think but a champagne and cocktail bar in The Grosvenor Hotel. So just where does it get its French name from?
Décor and Ambience
Enclosed in The Grosvenor Hotel, the site of Réunion was at one time a VIP Lounge for First Class passengers travelling from Victoria station. As it happens, Victoria was also the connection to Continental Europe via the luxurious Orient Express. So it seems that a Réunion was born to celebrate the amalgamated history of the two.
Very much staying true to its history, Réunion is decorated with the splendours of steam trains of years gone by but with a modern twist. Paintings of Brighton Belle, the other famous luxury train which departed from Victoria, hangs on either end of the bar. Pockets of seating are artfully cordoned off by curtains, creating intimate social spaces for meeting friends. A mirror reflects over the granite bar, centrally placed and illuminated by glass-ware lighting from above.
When you make your entrance, you will certainly feel like you've arrived.
Atmosphere and Clientèle
Despite not being overtly sign posted from the station, the bar is almost packed by 6.30pm. There's plenty of space to stand but if you want to grab a seat, get there early. Luckily, the bar is well staffed so you won't have to wait long to quench your thirst.
While Réunion is not a space for a quiet drink, it's definitely not a rowdy venue either. The well-heeled guests appear to be mostly professionals enjoying a couple of drinks after work. In the corner booths you're likely to find groups of suited men, clearly still engaged in an overrun business meeting. Sitting at the bar are the occasional lone traveller, soaking in the exotic martinis.
Food and Drink
Though Réunion offers up bar snacks in the shape of charcuterie, sushi and miniature bites, it's really the drinks that matter. After all, it is a champagne and cocktail bar.
Most people in the bar seem to indulge in the cocktails. But with few champagnes by the glass and vintages costing up to some £650, you can sort of understand why the golden liquid isn't flowing during the week. The cocktails on the other hand, start from just £7.50 and there are some carefully crafted ones like the Victorian martini. Of course you could always blend the two and go for a champagne cocktail. The toffee champagne is particularly good.
Réunion also creates limited edition themed cocktails alongside its usual offering, with a collectible menu. What a novel idea.
In Summary
If you find yourself with time to kill at Victoria station, consider popping into Réunion. Considering the jostle of the station, Réunion makes a much more relaxed waiting environment. And even if you don't bump into an old friend, you'll still be treated to some very good cocktails.
(First seen on Design My Night)