This is a recipe from the Michel Roux Jr and Bordeaux wine partnership
A little fish that packs a serious punch of flavour, this recipe takes sardines on toast to another level. The relish can be kept refrigerated for up to 5 days.
Serves 6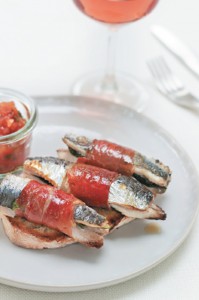 Ingredients:
36 sardine fillets
1 bunch of basil
Pepper
9 thin slices of Parma ham sliced in half lengthways
For the tomato relish:
8 large tomatoes
3 shallots, peeled and chopped
2 tbsp malt vinegar
1 tbsp of tomato paste
2 tbsp muscovado sugar
Salt and pepper
Pinch of chilli powder
1 tbsp each of mint, basil and coriander, roughly chopped
Method:
For the sardines:
Place 3 basil leaves on a sardine fillet, season with pepper and place another fillet on top.
Wrap each pair of fillets in a slice of ham and hold together with a wooden cocktail stick.
Grill for 4 minutes each side and serve with the relish.
If you want to serve the sardines with toast, grill some slices of sourdough bread and rub with a little garlic. Top with some relish followed by the sardines.
For the tomato relish:
Blanch the tomatoes and remove the skin. De-seed them and chop roughly.
Put the shallots and garlic in a pan with the vinegar and 2 tablespoons of water. Simmer until almost dry, then add the tomato paste and sugar.
Continue to cook and stir for 3-4 minutes. Add the tomato flesh, season to taste with salt, pepper and chilli powder and simmer for 10-12 minutes until cooked.
When cool, fold in the roughly chopped herbs.
My Bordeaux Wine Pick: Bordeaux Blanc
Whether you choose to serve this dish as a starter or a tea time treat, the uncomplicated freshness and approachability of a Bordeaux Blanc with its crisp, lively flavours of kiwi, gooseberry and peaches, would be a perfect wine choice.