Fortnum & Mason, 181 Piccadilly, London W1A 1ER www.fortnumandmason.com
"You must not," Jonesy tells me sternly, in a manner befitting a school headteacher, "talk about the food. Under any circumstances."
And like a naughty school girl, I defiantly enquired: "What, then, should I be talking about in a restaurant review? Surely food plays a major part?"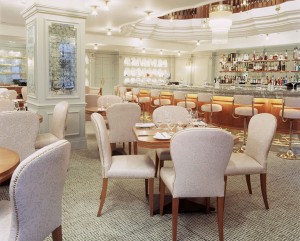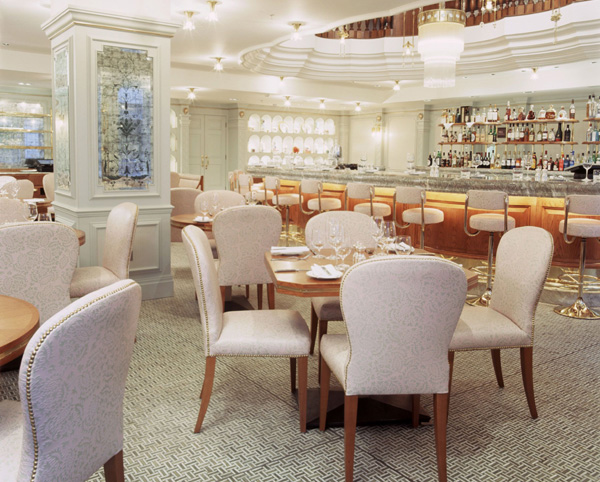 "Talk about the history."
"Ah yes. As an English institution, Fortnum & Mason certainly has a wealth of history for me to explore. Like when William Fortnum moved into Hugh Mason's house with his family in 1707, and thereby facilitated their meeting and future partnership. Or perhaps when Fortnum began to amass a small fortune from sales of reconstituted candles that later funded the first Fortnum & Mason store. Or even all those times when Fortnum & Mason first introduced new products to the British public, products which later became staples, like the humble baked bean.
But alas, I'm no Andrew Roberts and waxing lyrical about history just isn't my bag. Besides, the Fortnum & Mason website does it perfectly well so there's really no need for a fool like me to stumble over the facts."
"Talk about cashmere and pearls then."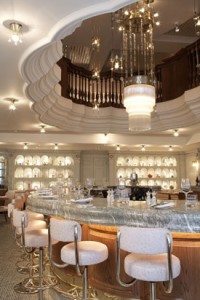 "Nothing to talk about there. While it is true that guests are encouraged to 'lean more towards 'elegance', but that doesn't surely mean I have to dig out those pearls and make like my mother? Charlotte and I mused over the dilemma of cashmere and pearls. Naturally we wouldn't want to appear out of place amongst the well-heeled crowd. And going Stepford could almost be exciting, if you really enjoy irony. But it was fashion week and anything short of 'this season' with a dash of opulence just simply won't do. So in the end, fur and Tiffany's won out over cashmere and pearls."
"Fine, talk about the jazz."
"Indeed, we were at The Fountain to enjoy a jazz brunch so I suppose the jazz bit is rather important. And pleasant it was too in that quintessentially British way that gets you saying quaint a rather lot.
Two smartly dressed gentleman sat to one side of the restaurant and played a gentle lull, creating a very soothing backdrop to the conversation. You almost don't notice that they're there, except when they stop playing.
At first you won't even realise it. Then slowly but surely, the feeling that something has gone amiss will creep up on you. You can't quite put your finger on it but you know it's there. Your breath becomes shallower, faster, and there's an increasing sense of anxiety in the air.
But then they start up again and as if a dream upon waking, all dark clouds disperse and you are reunited with that sense of well being. So you sort of carry on like nothing has happened and continue tucking into your food."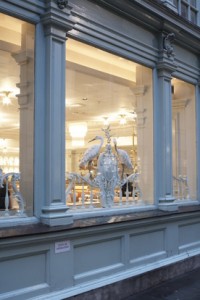 "Oh, there you go talking about the food again."
"But, Jonesy, food is what I know. Surely people would be desperate to learn about the precise degree of piquancy of the steak tartare? Oh, how that yellow yolk exploded over it when I dug in – it was a moment of pure delight. And the sourdough toast was just the sort of equipment you needed to mop up any excess juices. Of course then there's the scrambled eggs on toast that came up top as Charlotte's eggy breakfast of the week.
Jonesy, wouldn't you much rather hear about the rich, moistness of the chocolate cake with a filling akin to luxurious ganache? Okay, that one was strictly speaking off the menu until 3pm when Afternoon Tea is served. But the sticky toffee pudding I had was every bit its match…"
All that not talking about food has left me quite ravenous. I think some tea and cake is called for before I continue with this imaginary conversation about the review I should be writing. Or perhaps this conversation makes the perfect antidote to my usual lengthy explorations of food because, aside from the Jonesy bits, all other observations are factual. But wouldn't you much rather me dote more on the sauce for that sticky toffee pudding?
(First seen on The Arbuturian)