2 Spring Gardens, Trafalgar Square, London SW1A 2TS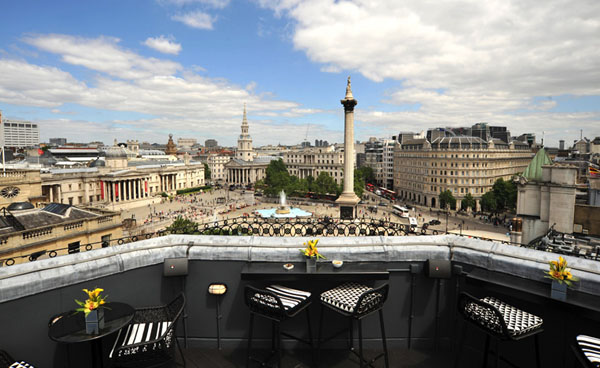 Vista, one of the most renowned and best rooftop bars in London, has reopened after a short closure for expansions. At over 350m2, it's now central London's biggest rooftop venue and has a capacity for 200 discerning guests.
Vista's location and altitude means that the venue boasts spectacular panoramic views of some of London's most notable landmarks, including Big Ben and the London Eye. The venue itself offers plenty of visuals too with its eclectic mix of chequered and striped seating surrounded by heavy foliage. And when the sun sets and London becomes illuminated, the shimmery glow is even more impressive and simply breathtaking.
Of course the lovely views would be nothing without the fantastic cocktails and great nibbles served from its Nuttalls designed bar and kitchen. Expect to sample exclusive cocktails made from premium spirits like Gin Mare and Black Moth Vodka (made with black truffles!), or if the mood takes you, champagne. It is the Hilton after all! Food wise, there is an outdoor grill serving up platters and salads to share, perfect for its 'place to meet' ethos.
It is expensive with spirits and cocktails upwards from £9 but if you a yearning for a special atmosphere, incredible London views and feeling very very special then for me, Vista at The Trafalgar is a must.
Vista is open from 12pm to 1am, Monday to Saturday, and 12pm to 12am on a Sunday. There is an entrance fee of £5 but one of those pounds will be donated to charity; Hilton in the Community Foundation and Cancer Research UK (if you wanted to know!
(First seen on Design My Night)