Serves 8–10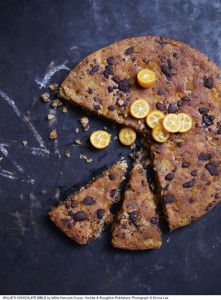 Ingredients:
200g slightly salted butter, softened
200g caster sugar
250g ground almonds
1 tsp vanilla essence
3 eggs
Grated zest of 3 oranges
Juice of ½ orange
75g medium-ground polenta
½ tsp baking powder
½ tsp cream of tartar
50g candied orange peel, roughly chopped
60g ginger, preserved in syrup, roughly chopped
80g Venezuelan Hacienda Las Trincheras 100% cacao, roughly chopped
For the syrup:
Juice of 2 oranges
2½ tbsp ginger syrup (from the preserved ginger)
¼ vanilla pod
Equipment: 28-cm cake tin (preferably with sloping sides)
Method:
Preheat the oven to 160°C. Lightly grease the cake tin and line with baking paper.
Beat the butter and sugar together in a large bowl until light and fluffy. Blend in the ground almonds and vanilla essence, then beat in the eggs one at a time. Mix in the orange zest and juice, then fold in the polenta, baking powder and cream of tartar. Finally, mix in most of the candied peel, preserved ginger and cacao, keeping back a little of all three to decorate.
Tip the mixture into the prepared tin, smooth the top and sprinkle over the pieces of reserved candied peel, preserved ginger and cacao. Bake in the preheated oven for 40 minutes, or until a skewer inserted into the centre of the cake comes out clean. Leave the cake to cool in the tin, then turn out onto a serving plate.
Prepare the syrup by placing the orange juice, ginger syrup and vanilla pod in a saucepan over a medium heat. Bring to the boil, lower the heat and cook until reduced to about 65ml liquid. While still hot, brush the syrup all over the cake, using a pastry brush. Allow the syrup glaze to cool completely before serving. This cake will keep well for just over a week if kept in a cool place in an airtight container.
These recipes are taken from Willie's Chocolate Bible, published by Hodder & Stoughton (£25), to accompany my review here.
You can buy the book on Amazon.