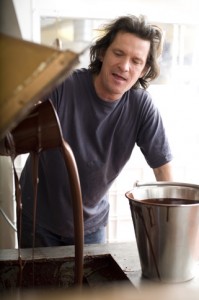 When Willie Harcourt-Cooze first appeared on to our TV screens in 2008, immersed in a bath of chocolate, it was the stuff of children's books. He was in a documentary about making the best chocolates in the world from bean to bar.
This was a man so passionate about chocolate that at the start of his journey, he sold his home in London and moved to Venezuela where he bought a cacao farm – Hacienda El Tesoro. For over a decade, he produced the cacao beans himself and turned it into bars to sell locally before bringing his 100% chocolate to the UK market. These days, the hacienda still produces cacao for Willie's chocolate factory in Devon, but he also sources selected cacao beans from elsewhere to produce his selection of quality chocolates.
Harcourt-Cooze's first book, Willie's Chocolate Factory Cookbook, came out not too long ago in April 2010. Now we have a second cookbook from the chocolate fanatic, Willie's Chocolate Bible.
When it landed on my carpet, it took my breath away.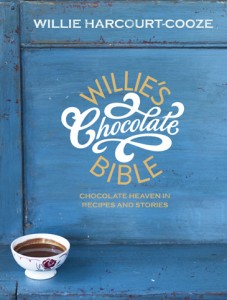 I hadn't anticipated its size – with over 300 pages, it's really quite hefty. Neither had I expected it to look so incredible. The beautiful cover resembles a navy blue door so when you turn the page, it feels like opening the door to a world of chocolate. And in many respects it is – to the world of Willie's cacao.
A quick flip through the book revealed an astounding number of recipes that I wanted to try. So which one first? I tweeted at the man himself @WilliesCacao who replied "start with the Cacao and olive bread then toast it for a nutty flavour!" And that is precisely what I did – I made bread.
I love freshly made bread but it's generally a whole lot better when someone else has done all the hard work. But in the name of recipe testing, I got down with the yeast and made a bit of a mess of the kitchen. It's not a recipe without a downside I'm afraid. Getting all the ingredients was a rather costly exercise and Harcourt-Cooze doesn't really suggest any alternatives. But then I guess for him and for chocolate connoisseurs out there, chocolate is a bit of a luxury. And so it should be.
When you sit down to read the accompanying narrative, you discover the tremendous process that chocolate has to go through to get from bean to bar. There was the harrowing tale of Harcourt-Cooze's journey from buying the hacienda to opening his chocolate factory and creating the recipes. Then there was the story and the history behind chocolate itself. It has served to both entertain and educate in the few hours between the first and second proof of the dough and the actual baking of the bread.
In fact, making the bread took me the best part of a day but that's nothing compared to the amount of time taken for the chocolate I used to make its way into my kitchen. At the end of it though, while my bandaged hands (small accident when chopping the chocolate) smelt like beer, my house smelt of wonderful freshly baked bread. As soon as I popped a soft, warm piece into my mouth, I was hooked.
The recipes are mostly sweet but there is also a healthy helping of savoury ones like roast wild duck with a chocolate and orange sauce. With beautiful food photography, delicious recipes and incredible tales, this book is for keeps.
You can try the cacao and olive bread recipe here. But perhaps bread making isn't for everyone so there's also a Christmassy orange, almond, ginger and bitter chocolate cake or poached pear pavlova with bitter chocolate sauce to try.
(First seen on Foodepedia)