This is a recipe from the Michel Roux Jr and Bordeaux wine partnership
Duck confit is incredibly easy to make and so versatile when homemade and served on a bed of garlicky potatoes. It cannot fail to impress.
Serves 8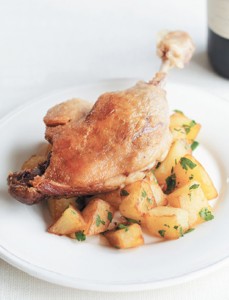 Ingredients:
8 duck legs
500g good-quality coarse sea salt
1.5kg duck fat
6 sage leaves
1 sprig of thyme
Method:
Liberally sprinkle the salt over the duck legs and refrigerate for 90 minutes then brush off the salt with a cloth and discard.
Warm the duck fat in a pan over low heat. Add the duck legs, thyme and sage.
Bring to a very gentle simmer, cover with greaseproof paper and cook for 2 hours or until tender. The slower and longer the cooking time, the better the duck will be.
Leave to cool in the fat and then refrigerate. The confit will keep for several weeks.
When you want to eat the confit, gently lift the legs out of the fat and place skin-side down in a non-stick pan. Cook over medium heat until crispy and golden.
Turn the legs over and put in preheated oven at 180C to finish warming through for 10-15mins.
Serve with sauté potatoes.
My Bordeaux Wine Pick: Saint-Émilion
Duck confit will require your time and commitment, but the rewards for your taste buds are plentiful, very much like the Saint-Émilion wine I would drink with it. Made predominately with Merlot, these wines are the epitome of style and sophistication, a direct result of the time and commitment dedicated by the Bordeaux wine producers.