74 Welbeck Street, London W1G 0BA meatliquor.com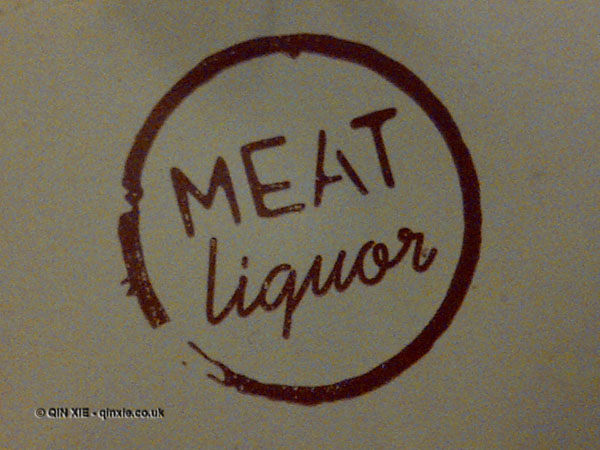 Queuing for food is never a good thing. You inevitably expect the food to be exponentially better at the end of it. Sometimes it is. Like at Corner Room or Long Table even. Sometimes, with the added expectations of rave reviews, it just doesn't quite get there. MEATliquor is one such place.
Arriving just before 7pm, the queue was already round the block. It was very reminiscent of a meal I had last year at Le Relaise de Venise nearby where queuing had always been notorious.
My friend and I were rather lucky to be offered seats within ten minutes or so by virtue of being a group of two. Others, I'm told, have queued for some hour and half in the snow in order to gain their perch.
Inside the gloomy bowels of the restaurant it's warm but not quite cosy. Like a sleazy Soho boudoir, it's cavernous, red and uninviting. I get the inkling that everyone inside had a dirty little secret. They probably did.
And for the first time, I experienced that invasion of privacy I so often read about on the media law pages of broadsheets. People, presumed to be bloggers, happily papped away at diners as they left. Do I want a stranger to have a photo of me stuffing a burger in my face? No, I don't want them to have a photo of me at all.
Our food arrived quickly enough – a rather heavily spiced Dirty Chicken burger and a Double Bubble with pickles the size of the Gherkin. The side was fries, not chips – they were very specific about that one.
And inspite of their motto "come hungry, leave drunk", I only nursed a single cocktail by the name of "time of the month" while my friend went for an apple juice.
Perhaps the burgers were really very good, or, perhaps, the portion sizes were exceptionally small; either way, I found myself wanting more. Finding room for dessert, therefore, was a non-issue. Sadly the quack pie proved to be particularly disappointing and I wish I had just ordered another burger.
Never had a dessert been made quite so impossible to get into, whose texture was so dense that if my spoon were made of lesser stuff it would have plainly snapped in half. Leaving my spoon flagged up, impaling the concrete filling, while I complained to my friend about the toasty character in the caramelised pastry, I felt strangely embarrassed to be touting my disappointment so blatantly.
Flag down and defeated, it was time to pay up and depart. While leaving a tip, I wondered how much was the appropriate reward for occasionally surly service.
I guess the true judge of a no-bookings restaurant's success is whether you'd want to go back knowing the length of the wait. And in the end, MEATliquor's burgers just weren't good enough to override the plethora of problems associated with dining there.