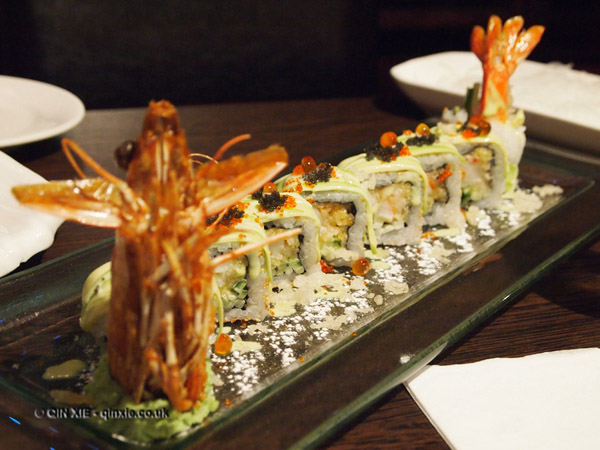 It's curious, the life of a Chinese expat – if indeed you can call me that. Despite being born in China and raised in a typically Chinese fashion, to the beating drum of the Tiger Mother, I have lived in the UK most of my life and hold only a British passport. When the Census comes round and asks me how I describe my "national identity", I want to say "a citizen of the world" or failing that, at least "none of the above". The reality is I probably copped out with something standard like British Chinese.
The thing is, no matter how British you are, if you're Chinese there's no denying it. For one, you look Chinese. At best, you can pretend you're Japanese or something but where's the sense in that? While I haven't done my best to embrace my Chinese heritage, I don't exactly reject it either. I'm Chinese but not really Chinese, like being Jew-ish rather than Jewish.
The other thing about being Chinese is that people automatically assume that you know all the best Chinese restaurants to go to, especially when they discover that you write about food. The reality, of course, is very different. I almost never visit Chinese restaurants for fear of spoiling fantastic memories of Chinese food. Also I firmly believe that my mother can do better.
You see back in the 90s when I first moved to the UK, my parents thought that visiting Chinese restaurants was like a taste of home. It was said that wherever there were people, there was a Chinese restaurant and more often than not, it appeared to be true. Unfortunately in those days the food was just so awful – everything seemed to be sweet and sour gelatinous orange blobs, resembling some grossly exaggerated bacterium from Pluto. It really pained me to go to these restaurants and I made a point of avoiding them like the plague.
Fast forward a decade or so, I found myself going to my first sort-of Chinese restaurant for a review (Goldfish, Gresham Street) and I wasn't horrified by it. In fact, I was even impressed by some of it. I was beginning to warm to the idea of Chinese restaurants again – the food has certainly improved and gained an air of authenticity. A few more choice spots later (Yauatcha and the likes), I felt like I was finally ready to step into Chinatown, where there is the highest concentration of Chinese restaurants in London, for something other than the Prince Charles Cinema.
Coming from the capital of Sichuan, Chengdu, I am familiar with and often crave its restaurant and street food so I made a beeline for the Empress of Sichuan where spicy is the word. At the Empress of Sichuan, the chilli oil didn't disappoint and neither did the quality of their Sichuan peppercorns. If you can brave the chillies, the pork in spicy soup is the thing to have but otherwise go for the milder lamb skewers.
If you can't handle spice at all then it's probably best to go for something milder, like the soup-filled dumplings (Xiu Loung Bao) at Dumpling's Legend. Each hot-pocket of deliciousness is hand made in the kitchen, to order, and comes in a whole selection of different flavours. There is an etiquette to eating these, I am told, for both grace and safety.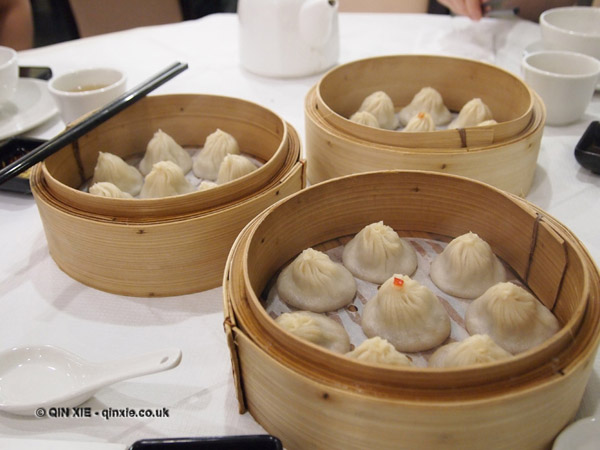 You see the snowy steamed pastry holds a piping hot filling as well as its cooking juices, scoffing the whole thing in one go will surely leave you an injured tongue. So the thing to do is to carefully pick up the dumplings by their pointy top and place its base on to the Chinese soup spoon provided, then bite off only the top section in your first attempt. This will release some of the steam trapped inside and allow the cooking juices, or the soup, to cool a little. I suppose this helps you to savour the flavour too.
For a real mixture of Chinese cuisine, both the spicy and mild, Leong's Legend is a good choice. The menu isn't extensive at this cosy little venue but you can order the Xiu Loung Bao and some of the spicier dim sums too. But of course there are lots of others offering a similar selection in the vicinity.
What is surprising is that it's not all Chinese restaurants in Chinatown, there are also a fair few Japanese restaurants. Take Ikkyusan on Gerrard Street for example, it's quite well known for shabu-shabu, a Japanese variation on the Chinese hot pot, but it also serves some impressive sushi. The "dragon roll" is the house special and tastes as good as it looks. And then there's Sushi Ga Ga round the corner which serves sushi and ice cream in a much less informal environment. Neither is Chinese and yet, somehow, they feel quite at home in Chinatown.
Am I pleased about these gastronomic discoveries in Chinatown? Definitely. The Chinatown today certainly serves up a much more impressive fare than it did some ten years ago. And with an abundance of other venues to explore, there's plenty of opportunities for experimentation. As to whether I'll be embracing Chinese restaurants from now on, I'm still not sure about that one. But at least I feel a little less afraid of venturing in and giving it a go.
(First seen on The Arbuturian)