14 Cork St  City of Westminster, W1S 3NS – now closed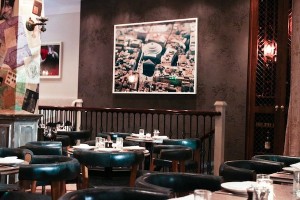 Just a stone's throw from the Royal Academy is Aurelia London, a Mediterranean restaurant nestled in the heart of Mayfair.
The restaurant is named after Via Aurelia, the historic route which spanned across the Mediterranean, from Rome down to Santiago de Compostela. The food pays homage to the same landmass, where rabbit and swordfish appear alongside plenty of olives, garlic and anchovies.
Everything is light, delicate and calling for glorious sunshine and ice cold rosé.
You can go as formal or informal as you like and sharing is definitely encouraged – this is no stuffy Mayfair restaurant.
A selection of breads and the house olive oil begins our lunch at Aurelia London. The peppery notes in the oil did well to indicate that it was an extra-virgin olive oil of sound quality – a good start.
Crisp, thin slices of octopus rostie, sprinkled with a light dusting of chives, soon arrived atop boiled new potatoes, skins still on. The hint of heat in the mild Galician flavours were offset by the cool tuna carpaccio which served as the other starter.
The carpaccio, doused in a slightly sweet sauce, rested on top of a finely shredded bed of salad was topped with yet more chives.
The food at Aurelia London was rustic but good; rather like the restaurant's interiors which were lined with little portraits and vintage photographs, all reminiscent of little bistros in the Côte d'Azur. It has just the right amount of kitsch to put you right at ease.
For mains, monkfish a la Provençal offered an interesting contrast against the pappardelle with rabbit ragu. Tomatoes, olives and plenty of parsley made a delicious sauce, well matched to the relative firmness of the monkfish. The rabbit ragu, with a shaving of creamy cheese, was more reserved in flavour but well placed for the wintry London weather.
After two well-portioned but light courses, there was still plenty of room for dessert. Carefully arranged red wine poached pear with ice cream and warm chocolate fondant with orange compote provided the answer.
The menu at Aurelia London, filled with Mediterranean flavours, managed to be both wintry and light. All was washed down with fresh mint tea and all just over an hour.
It's not committed to a single cuisine but with so many restaurants specialising in smaller and smaller niches, Aurelia London is probably one of the few places that's still focusing on a wide region and doing it well.
It's obvious really; if they're packed on a Monday lunchtime, they must be doing something right.
(First seen on Bon Vivant)