Town Hall Hotel, Patriot Square, London, E2 9NF7 www.cornerroom.co.uk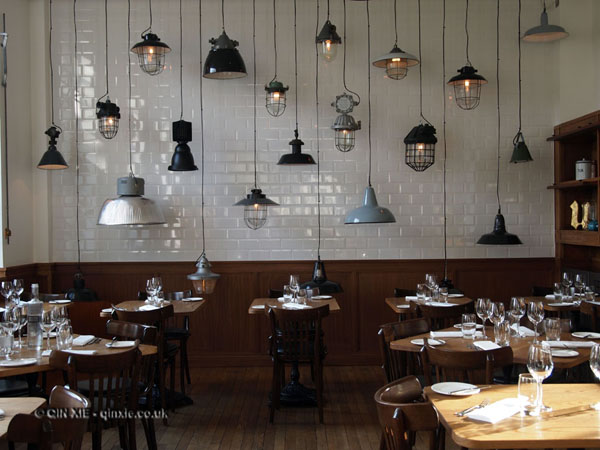 I've reminisced an awful lot over the perfection of Nuno Mendes' lamb since my last visit to Corner Room, not long after it opened. The rump and belly were well seasoned and perfectly seared, creating a salty crust and tenderly medium-rare core. Hunger inducing stuff. And though the desserts weren't what I'd flock to Corner Room for, in spite of my sweet tooth, this one lamb dish was enough to have me wanting more.
Naturally, an invitation to lunch at Corner Room was not to be declined.
It seems that Corner Room is now offering a two course lunch, any two courses, for £15. Considering that it's the same menu for lunch and dinner and all the main courses are £10 or over, that's a pretty good deal. Imagine, not having to queue for food at Corner Room! Admittedly, though, the small print says that some items are subject to a supplement when part of the lunch offer.
Excited about revisiting the lamb, I was disappointed to find that it was no longer an option. The Corner Room, I've been told, changes its menu weekly. Not completely but bit by bit. Comparing the menu that sat in front of me and the menu that I had dined from a couple of months back, I spotted the similarities – a couple of the starters and mains were still on the menu but with new and seasonal accompaniments.
It's the season to indulge in game so potted hare with winter leaves sounded like just the thing to tuck into. While expecting a plate full of winter, what arrived actually had designs on spring. The cress and radish was all ruby, white and moss green on the plate while straw yellow parmesan chips nestled in between. Hiding underneath was the shreds of potted hare with its melt-in-mouth deliciousness.
The Iberico pork and Portuguese bread pudding was much simpler in comparison. Almost rare in the middle, as it should be, the Iberico pork was reminiscent of that tender lamb but with a gentle marbling of fat and added nuttiness. The Portuguese bread pudding was in essence croutons without the crunch. The two, along with baby carrots, came together remarkably well, the way that Mendes' savoury dishes always do.
In the end, I tried another dessert – I just couldn't help myself. The blueberries with goats cheese caramel, brioche (more croutons!) and shiso made yet another interesting combination, both on the eye and on the palate. My sweet tooth was lost somewhere between the different colours, flavours, temperatures and textures but I don't think it was quite satisfied. Thankfully, there were a few other desserts for me to dip my spoon into.