1A Bedford Street, London WC2E 9HH www.bedford-strand.com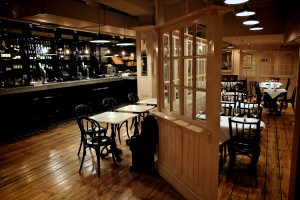 My friend Alicia and I have a bit of a thing for wine bars. We used to work together at Food and Travel magazine where she looked after the drinks section, amongst other things, and we got together on a mutual interest in wines, and in particular, natural wines and Tokaji. The exploration started with Terroirs, then it was on to Dego and now we were at Bedford & Strand.
Bedford & Strand was opened by a group of friends in 2005, all of whom worked in hospitality. Though its name suggests a venue reminiscent of an old world tavern, the reality is a basement wine bar – all tiles and polished wood. The clientèle, similarly, were polished and well dressed. And it seemed, judging by the pairs dining, mostly there for dates.
The compact menu is an interesting mix of French and English.
Alicia, ever the oyster fiend, suggested getting half a dozen oysters but it seems that the City boys propping up the bar had already beaten her to it. Having recently sampled quite a selection of Bloody Marys, I was curious about the Strand Bloody Mary, listed under "starters" rather than "before", while Alicia chose a devilled pot of Torbay crab instead. It turned out the Bloody Mary really was just a Bloody Mary, albeit a very good one. I wondered if I should have opted for a goat's cheese salad as well while Alicia slowly tucked into her potted crab.
Though a good selection of wines were available by the glass, by the carafe or by the bottle, we decided to go the easy route and chose something unusual from the "staff picks" section. A carafe of Lunate Fiano from Sicily was ordered – it was a Monday after all. The light floral character and refreshing acidity did well to partner up with the rest of our food.
My leg of rabbit and white bean casserole for mains was every bit the French bistro food you might expect to find in France – smooth, creamy and richly delicious. It was positively moreish really. Alicia's poached haddock was done well and served with a very generous portion of Colcannon. In terms of seasonality, which the restaurant is certainly trying to capture, it was doing pretty well.
Rounding things off was a spotted dick for me (I wanted to see their custard) and a cheese course for Alicia. The custard was perfect but I'm not sure the spotted dick was for me. Still, there was cheese to steal from Alicia's plate, which though pricey was quite generous.
By the end of our meal, the restaurant was still pretty busy. Or at least busier than the two members of staff who looked after us could handle with ease. Mildly satisfied, we left reflecting on our dinner. Food wise it was good but some of it needed work. I was told subsequently that the restaurant's head chef Tim O'Brien, who wasn't there on the night, will be changing to the spring menu soon with a few new things on the menu. Well I shall be looking forwards to that and trying more wines next time.