110 southwark street, london, SE1 0TF www.therefinerybar.co.uk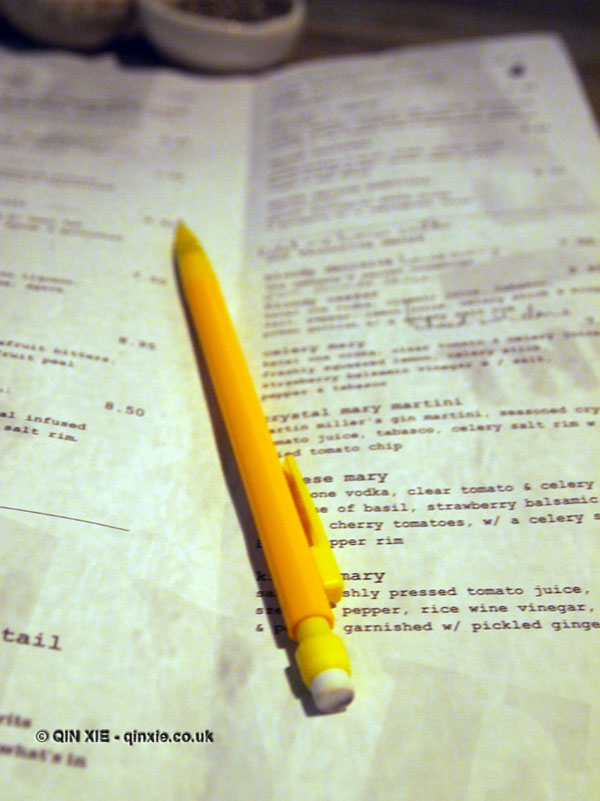 I've walked past The Refinery on Southwark Road many a time whilst at NME and FT Weekend Magazine but never had the opportunity to go in. It was always packed with media and City types who worked in the area and in the summer, especially, there were always groups vying for space on their sun loungers.
What I never realised was that it was part of the Drake & Morgan group, who also own The Folly amongst other City bars. Just like The Folly, The Refinery are big into their cocktails and they're big into making their cocktails interesting. In particular, they like putting edible, and savoury, decorations on and in their cocktails.
I went to The Refinery last week where the head bar man Dennis took me through their Bloody Mary menu.
There are six variations of the Bloody Mary on the menu, five of which are the same across all Drake & Morgan sites while one, the Bloody Decisive, is unique to the venue. The Refinery, Dennis tells me, is based on a sort of steam punk/machinery theme and the cocktails reflect this masculinity.
The Refinery Bloody Decisive is made with the house vodka, Ketel One, and a special tomato juice blend which Dennis makes up daily. Whilst not radically different from your standard Bloody Mary, The Refinery version delivers a bitter hit and, luckily for those who despise celery, no celery salt.
The Celery Mary and Caprese Mary are similar in that they are both based on vodka, clear tomato juice (like those found in Bob Bob Ricard's Natalia Vodianova Clear Bloody Mary), celery juice , strawberry balsamic vinegar and a salt and pepper rim. But from then on it's two completely different cocktails. Celery Mary plays host to a safe dash of lemon and Tabasco while the Caprese Mary is really a soup of basil chiffonade and chopped cherry tomatoes. Drinking a cocktail with vegetables in it is definitely an interesting experience but then isn't Pimm's the very same but with fruit?
The three other Bloody Mary cocktails are all very different. The Crystal Mary Martini, made with Martin Miller's gin and clear tomato juice, strayed too far from the Bloody Mary frame for my liking but should be on the "to try" list for all gin aficionados. The Kimchi Mary, made with sake, wasabi, Szechuan pepper, rice wine vinegar and served with pickled ginger, was like an Asian influenced gazpacho. It feels so wrong to be drinking such a concoction and yet it goes down strangely well. The final cocktail, the Bloody Caesar, is a solid favourite of mine.
The Bloody Caesar is refreshingly sharp and deliciously savoury all at the same time. Made with all the standard ingredients, but using clemato juice instead of tomato juice, it is served with a king prawn garnish. Clemato juice, I am told, is an American import where the tomato juice has been infused with the flavours of clams giving it a savoury seafood note. It doesn't turn out like a plateau de fruits de mer but there is definitely something about it that's distinctively different.
Six Bloody Marys and three sharing platters made quite a feast but somehow not quite so intoxicating as it might sound. Sundays, I hear, are particularly good for a boozy brunch of roast and Bloody Mary. I'd make mine a straight of Bloody Caesars next time.