178 Victoria Park Road, London E9 7HD namo.co.uk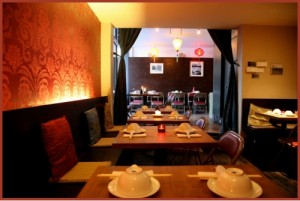 How many restaurants can lay claim to a Banksy on their wall? The answer is probably not many. But Namo, a modern Vietnamese restaurant in the heart of leafy Victoria Park, can boast one. Well, almost one as it's been partially painted over and graffitied on since it's inception.
Inside is a whole different story. Namo, the second restaurant of husband and wife team Colin and Linh, is tastefully decorated with just a hint of the orient, playing host to a surprising mix of young families and trendy youths.
It seemed appropriate to time my visit to a menu change, given that the restaurant is already five years old.
Crispy courgette flowers and steam stuffed baby squid were complaisant introductions to the menu – they were just European enough to be familiar without defecting from the aim of trying out the Vietnamese cuisine. There were also more traditional options to choose from like Pho or 'la lot' wrapped beef. The courgette flowers arrived with a chilli dipping sauce placing it firmly on Vietnamese terrain. The baby squid, stuffed with pork and prawn, also had a sprinkle or two of chilli. The two offered an indescribable blend of flavours to the palate and a touch of spice.
For the main, Saigon pork and Vietnamese fish in claypot were ordered, both with a side of leaf wrapped coconut rice and vegetables.
The coconut rice is something you could happily have on its own. The leafy parcels opened up to sweet coconutty rice mixed with savoury vegetables, a combination that was really quite moreish. Mackerel pieces in a caramelised ginger sauce made up the fish in claypot. It was simple, uncomplicated and complemented the rice very nicely. The Saigon pork, though, turned out to be Saigon beef.
As it happens, Namo had a particularly busy lunch service and ran out of pork. You would have thought that they'd ask if a change of order was required before bringing it to the table. Luckily I had no quarrels with eating beef and the flavours weren't half bad. The deep-fried sprinklings of vermicelli topping seemed a little excessive but the beef was seriously tender and you could certainly taste the spices in the sauce.
At this point, the meal was sitting quite heavily and yet there was some how room for dessert. Banana fritters with coconut ice cream was ordered but apple fritters with coconut ice cream arrived – the meal replacement service strikes again! The restaurant was clearly still having some teething problems.
Namo didn't serve up the fresh and overtly health conscious Vietnamese cuisine I had anticipated and the relaxed approach to orders was rather disappointing. But to its credit, the food that was ultimately served up was wholesome enough and certainly enjoyed by the hoards of locals that seem to flood in around 8pm. And the coconut ice cream was definitely a nice way to round off a heavy meal.
(First seen on Foodepedia)