88 Worship St, London EC2A 2BE hkklondon.com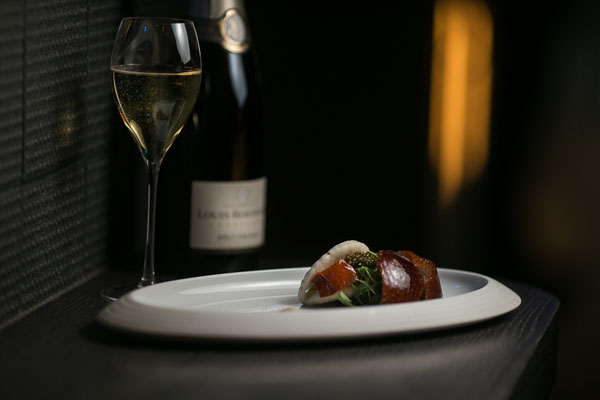 Duck and Champagne is a pretty random combination, isn't it?
Food and wine matching common sense would probably suggest that a gamey fowl like duck is best served with a red wine of some sort, say a Pinot Noir; or at the very least, a bold white wine like Chardonnay. But let's throw the rule book out of the window for a while to consider the new(ish) Duck & Champagne menu at HKK.
For £49, you get two servings of their famous cherry wood roasted Peking duck, an amuse bouche and a dessert. Oh yes, and a half bottle of Louis Roederer Brut Premier NV Champagne – a very good non-vintage. It's a startlingly good deal just for the wine since, at retail rates, a bottle of the Louis Roederer costs in the region of £40. And then you get the delicious food thrown in.
So let's talk about the food.
Kicking things off is a tiny but exquisitely presented blue crab salad. A sliver of crab meat is served on top of a baby treviso leaf. Beneath it is the second part of the bite – cubes of tropical fruits that fills a fried pastry shell. At first, like me, you'll resent it for being so small. But trust me, once the duck arrives, you'll be glad it was no bigger.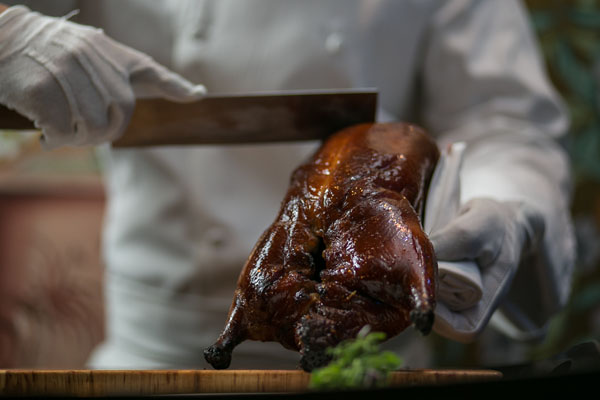 The duck is of course the main attraction and HKK have successfully made a big deal out of it. A whole roast bird, beautifully browned and glazed during the lengthy cooking process, arrives at the table on a service trolley. The room is immediately perfumed with the rich smell of the roast duck and, if you love crispy duck as much as I do, things get pretty exciting.
A chef starts carving into the meat with a cleaver in front of you while another member of the staff plates it up so that when it arrives on the plate, it's nothing short of elegant. It's certainly details like this that rewards HKK with its Michelin star.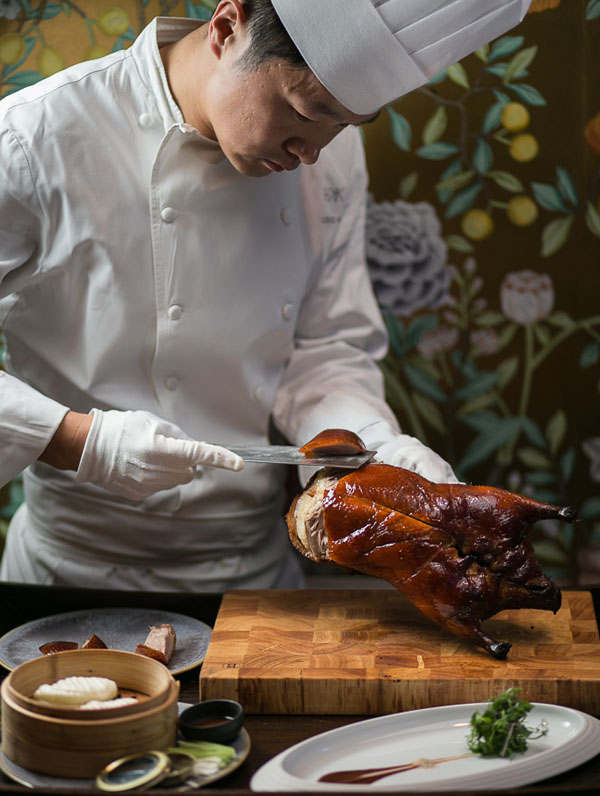 As I said, there are two servings.
The first serving is with a steamed black truffle mantou, a classic Chinese steamed bread (minus the black truffle, of course) and a dollop of Imperial caviar. A portion of the crispy skin is eaten separately with a dipping sauce first, so you can savour the subtle, smokey flavours, before you tuck into the pillowy bun of the mantou. The Champagne really helps to cut through the richness of the meat here and, even though the sauce is lightly sweet, it doesn't jar on the palate.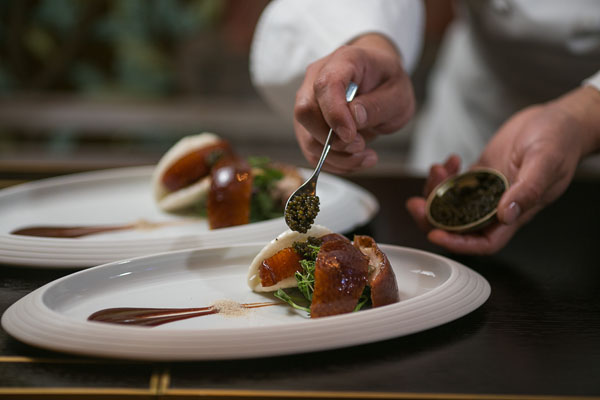 Meanwhile, the chef has returned to the kitchen to prepare the meat for the second serving – with sesame pancakes. A steamer full of handmade pancakes, that more closely resembles tortillas, is placed to one side as a plate of precisely portioned duck with julienne of cucumber and spring onion takes centre place at the table. This is when you can take as much time as you want to enjoy the feast as the attentive staff tops up your glass.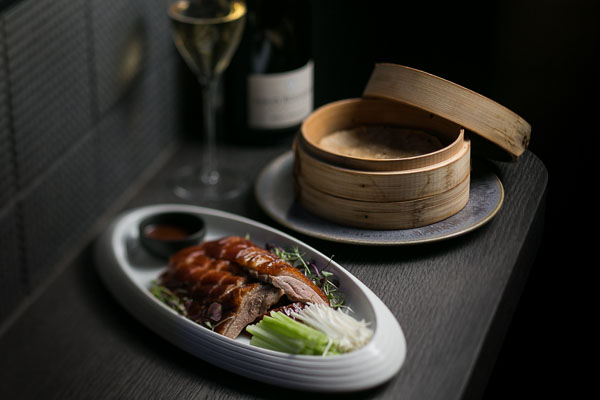 I want to take a moment to mention the service. In short, it's excellent. The food is introduced with just the right amount of detail and care is taken to never intrude while always being at hand.
Served with the duck and pancakes, there's also the side of an egg fried rice. A bejewelled bowl of rice is topped with a duck and abalone supreme stock that you have to combine before eating.
Supreme stock, in Chinese cookery, is a rich stock typically made with chicken meat and vegetables – it's supposed to be more complex and flavourful than regular stock. You can use it as a soup base but it's more frequently used for stir fry dishes for added flavour.
In this case, the duck and abalone stock was a glossy, chestnut colour and resembled gravy in consistency. I wondered if it might be too salty but the flavours were just spot on.
Finally, to round off the meal, a nashi pear and Champagne mousse arrives with Champagne sorbet, spun sugar and a Champagne sauce. The delicate and clean flavours were a fabulous way to round off the lavish meal. And if you still have Champagne left in your glass, you'll find its fruit notes well-accompanied by the intense pear flavours.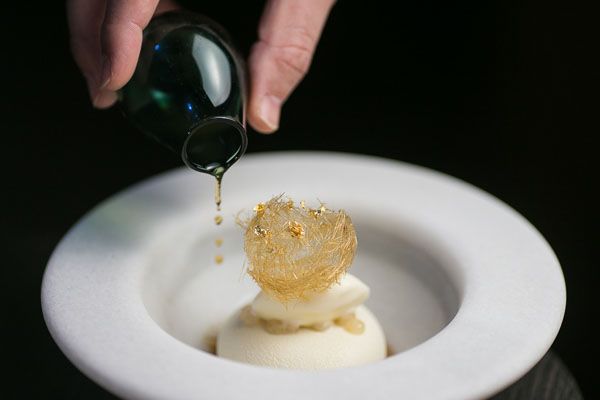 There's a restaurant whose tagline is 'come hungry, leave drunk'. Well, I'd much rather do it the HKK way. It's just a shame the Duck & Champagne menu is only available on Saturday afternoons.
My advice is, go with your favourite Champagne loving friends and don't make plans for afterwards.
Photographs c/o HKK
---
In Pursuit of Food was a guest of HKK. To find out what this means, please refer to our Editorial Policy.