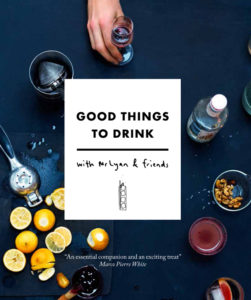 The Book Good things to drink with Mr Lyan & friends
The Author Ryan Chetiyawardana, also known as Mr Lyan, is a bar tender who opened the award-winning White Lyan in 2013 and more recently, Dandelyan at Mondrian Sea Containers mrlyan.com
The Publisher Frances Lincoln Limited
The Release date 1st October 2015
Who's it for? Cocktail enthusiasts and bar types keen to pick up some new skills or ideas – White Lyan was the first bar in the world to have no drinks on the menu that used perishable ingredients like lemons and herbs so you can expect some exciting ideas inside.
What you'll find inside The book is very much aimed at those shaking up a round or two at home so there are easy recipes to follow as well as things to experiment with. Case in point, there are some classics like the Manhattan, Old Fashioned and Chetiyawardana's twist on the Negroni. The beginning of the book tells you about the staple ingredients, the tools, the techniques and the type of serves. Each cocktail has an introduction, ingredients, method and a 'magic' top tip that will either improve the drink or make your life easier. It feels like every recipe has a purpose and a reason to be there.
What's missing Drinks and friends! The book is incredibly well put together, almost like an instruction manual in that it's concise and comprehensive. Every drink has a recommended glass and a final photo so you know exactly what you should be getting. There's no history or background on the drinks but that's perhaps for a different type of book altogether.
The best bit The book is divided according to the time of day and occasion for drinking, rather than by the type of drink. There's a feeling of spontaneity – no more diving straight into the martini.
The Price (RRP) £20
Photographs by Kim Lightbody, c/o Frances Lincoln Limited