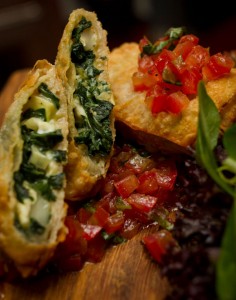 Putney Pies are a bit controversial, certainly much more than I had anticipated when I was invited for a visit.
Located just a few paces from East Putney Station, its owner had traded globe-trekking work with Sting for the rustic-luxe sort of pie boutique. With little restaurant experience, the whole operation was a bit of a steep learning curve at the beginning. And judging by some of the reviews I've read this had translated across to the experience of some vocal guests, with price being a particular sticking point. Then again, there are few restaurants that leave little room for contention.
As a pie aficionado, an evening of, well, eating all the pies doesn't sound like the worst thing – it's not exactly the first time that I've been invited to try an entire menu after all. Plus, there was promise of interesting beers being matched to the menu.
The weather on the night was ideal for trying pies – wet and windy. Putney Pies' softly lit wooden interior was lined with paintings by their artist in residence and hard to navigate but superbly comfy booths, offering an interesting shelter from the cold.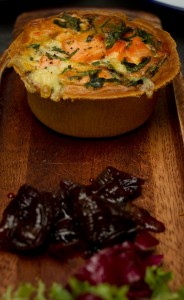 Looking at the menu placed in front of me, and subsequently checking out the autumnal additions, I'm not sure what the fuss on price was all about. Starters (soups, goats' cheese parcels, salads and the likes) are in the region of £5 and the mains (pies and quiches) comes in at around £7.50. I know I've had the unfortunate experience of having lesser pies at greater expense in restaurants.
That said, while all the pies come with gravy and chutney, I am bothered that they're not automatically furnished with a side of potato something. I was also rather disappointed to find that they didn't have a rabbit pie – something I've cultivated a little craving for. Instead, they have a venison and Suffolk ale number in the way of game.
The pie that really stood out for me, though, was actually the vegetarian option. Sceptical about its lentil filling, I was surprised by the robustness of its flavour. I'm not saying that it's better than the meat pies of course, but it with its roasted vegetables and lightly curried flavour is definitely the best vegetable pie I've had for a long time. The fact that it's gluten free will probably garner it a few extra fans too.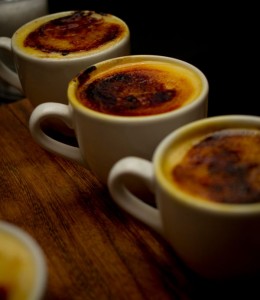 Pies are enthusiastically placed on either side of the main as well – a pair of mini cold pies will start you off and there's a chocolaty Putney mud pie to finish. Feeling slightly pied out from the indulgent selection of mains, I dove into a lavender crème brûlée. It's perfumed but good, the extra shard of brûléed sugar made it even better.
The beers actually came last and indeed they were interesting. I tried a couple of whisky cask-aged beers from Scotland, provided by the Aussie owner of The Beer Boutique next door. These were of particular interest as I had just been sent some similarly oak-aged beers from Innis and Gunn to try. The cask ageing has created a porter effect in the beers, which of course varies according to the beer and cask. It seems that they are also matching some beers to the pies on the menu, although none were the ones that I tasted. Alas.
After the last drops of the beers were downed, it was time to head home. Somehow the pie break in my day made it a whole lot better – the rain had stopped and my belly was filled with hearty goodness. While it's proximity to my house is not too bad, I may opt for their delivery service the next time it's a rainy day.