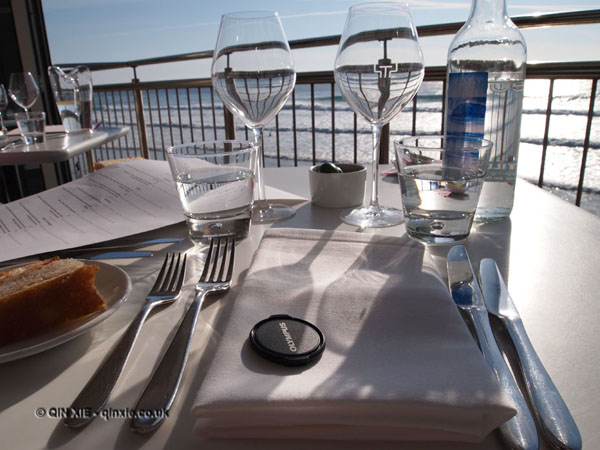 Expectations:
Although a subsidiary of Jamie Oliver's Fifteen Foundation, the Fifteen restaurant in Cornwall is actually owned by the Cornwall Foundation of Promise. This means that while the restaurant is influenced by Oliver's passion for fresh produce and Italian cuisine, it should have its own identity. Given Oliver's influence, we expected simple rustic food with a tonne of good quality olive oil and fresh salads.
Experience:
Fifteen Cornwall, has been blessed with a stunning view that its counterparts could only dream of. We sat on the balcony – front row seats to the keen surfers' twilight wave-riding, framed by the setting sun shimmering over the bashing waves. Below, dog walkers pat along the beach before it's engulfed by the incoming tide.
The food on offer was set out on a tasting menu but with room for choice and optional matching wine alongside. Before we got down to the choosing, our waitress explained what the different ingredients were, where they were sourced and how they were cooked. For seasoned diners, this was a little over explained although for the less gastronomically experienced, it proves to be a good insight.
To start was the obligatory nibble of bread with olive oil but also Puglian olives and courgette flowers. As we opted to skip the insalata, the first set of mains to arrive were the raviolo of Lee Carter's lobster and aged carnaroli risotto. While the fairly small portions were nice, they didn't do too much to impress. That said, the raviolo seemed more 'cheffy' than the usual Oliver style.
What arrived next was the pan fried fillet of John dory and hand dived Cornish scallops. The scallops, though perfectly cooked, didn't excite our taste buds. At least not like the panzanella which came with the John dory – the perfect tart side to the fish and the hot weather. We certainly wouldn't object to another portion of those.
An Amedei chocolate cake and the Amalfi lemon tart made a rewarding finish to the meal, whether shared or savoured individually.
Evaluation:
It's interesting to see the fine amalgamation of Cornish and Italian ingredients together on a plate. Though the delicious food wasn't extraordinary, the quality of the ingredients and the care in preparation was certainly impressive. Added to that mix is the fabulous view and excellent and knowledgeable service. The tasting menu makes it hard to have a simple meal but we would definitely go back when there's good weather and buoyant appetites.
Click here for menu and imagery.
(First seen on Blue Tomato)