115 Charterhouse Street, London, EC1M 6AA www.foxandanchor.com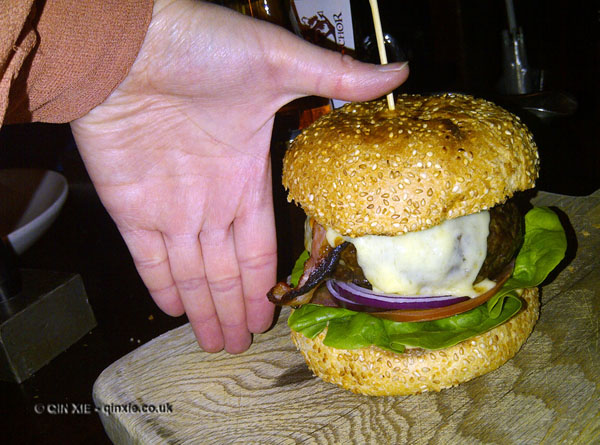 The first time I heard about Fox and Anchor was in the context of its "City boy breakfast". Located in close proximity to Smithfield, the pub with rooms serves up a meaty breakfast of epic proportions. It's aimed at, I suppose, anyone who has just partied the night away at Fabric or indeed needing a serious fry up at 7.30am when breakfast service begins.
I've walked past after late night events, especially at Malmaison, and been in for drinks on a Sunday. It's always busy, unless it's shut. And on Sundays, especially, being inside will make your stomach rumble. The smell of the perfect roast intensely perfumes the small room such that, even if you have just had a long brunch, you still immediately crave a second serving. It's definitely not one for vegetarians but as a committed carnivore, it's exceedingly exciting to be dining there for the first time.
The menu is meat heavy, as to be expected. What I didn't realise was that they also did a daily roast.  Intrigued by the rest of the menu, I side stepped the roast and went for three courses.
"Tucker Browns" black pudding, champ and crispy poached egg was the first thing to arrive after nibbles of pork pie, sausage roll and pork scratching. After a day in the Leiths kitchens tasting and testing, I was quickly filling up. This mildly meaty and slightly savoury combination really whetted my appetite. What was surprising was that amongst all the pub grub, this particular starter had the elegance of a restaurant plate.
Generous, too, was the main course – a bucket of ribs with apple slaw and baked cheddar potato. There was really no lady-like way of eating this except to tuck in, which is rather good amongst friends. The other mains were equally wholesome. The burger, in particular, was practically the size of my hands – quite a task to polish off.
By the time desserts rolled round, I was feeling more than satiated. The unpretentious menu offered staples like apple crumble with Bird's custard, amongst other things, and while I joked that it was no "crème Anglaise", the texture of the topping and smoothness of the sauce really did compensate. It was honest food. And done well.
Waddling home, I couldn't  remember the last time I was  so thoroughly well fed. If you went in for that Sunday roast and stayed the night, you won't be requiring their City boy breakfast; I imagine. You'd find the smell hard to resist though.