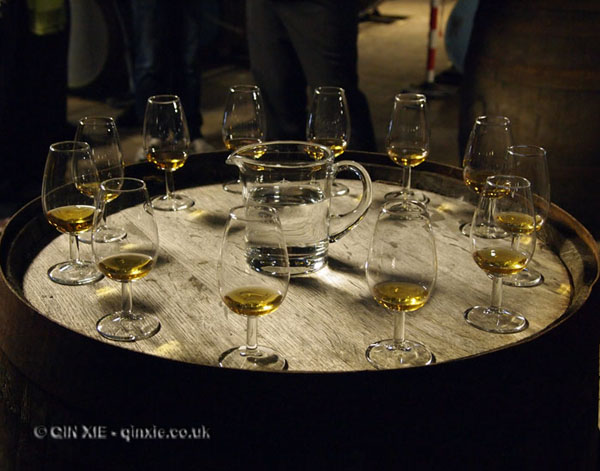 A couple of weeks ago I went to the Isle of Skye in Scotland for the launch of Talisker Port Ruighe, the latest release from Talisker and a new permanent addition to the Scotch malt whisky's portfolio.
The name, Port Ruighe, is a nod towards the Gaelic way of writing Portree, the location of the distillery on Skye, and the port casks that the whisky has been finished in. In essence, Talisker Port Ruighe is the Talisker 10 finished in casks that had previously contained port.
In the company of journalists from UK, France, Germany, Italy and elsewhere in Europe, we tasted both the Talisker Port Ruighe and Talisker Storm (another recent release).
While Talisker Storm is spicy, smoky and an obviously more potent version of Talisker 10, Talisker Port Ruighe was a softer, silkier and, for me, more elegant expression. The fruit is brought forward while the spice and peat is pulled back by the port cask finish which worked really rather well. It's noticeably sweeter too but perhaps that doesn't work so well for everyone.
We tried two other approaches to the whiskies – tasting with food and an blending exercise.
In the food session, we tried both Taliskers with food that picked out aspects of the whisky such as black pepper for the spice and strawberries for the fruit. While it highlighted what the blender, Maureen Robertson, had tried to achieve, it also helped to show how they might be paired to food, and desserts in particular.
In the second session, which is sadly not available to the public, we tried our own hand at blending. We were given three liquids (whiskies at various stages of ageing) which we had to blend by taste and by smell to try and achieve a mystery liquid. Let's just say it's significantly harder than it sounds and it already sounds pretty impossible.
The sessions and the trip itself was a great insight into how much of a skilled task blending whiskies is; it's certainly hard not to be in awe by the end.
Read more about Skye and whisky on Culture Explorer
Here are a few snaps from Talisker:
Talisker had kindly hosted the trip to Skye.