15 Broadwick Street, London W1F 0DL www.yauatcha.com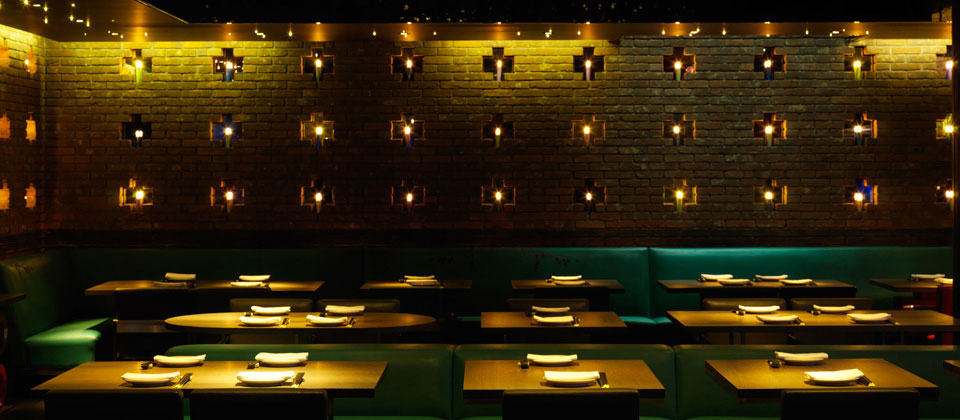 Yauatcha, what an obscure name.
How ever I looked at it I couldn't reconcile the Chinese characters sitting comfortably next to the name, Yauatcha. 丘記茶苑 is the Traditional Chinese characters for Qiu's Tea House, so how does it translate to Yauatcha?
Evidently, the character 丘 is pronounced Yau in Cantonese. As in Alan Yau OBE – the man who started the Wagamama empire, opened up Hakkasan and of course created the Michelin-starred Yauatcha. Such musings added endless fascination to the restaurant for me and as such, I've found myself at yet another Chinese restaurant without pausing for thought. And it was busy.
Of course it was. Why would it not be? It's a Saturday, it's a Michelin-starred restaurant and London is a hungry city, me included. Not so busy, though, that we couldn't get a seat – thankfully. Wandering around the streets of London seeking out impromptu dining opportunities is a bit of a pain when you have two picky diners looking for more than just a snack. I was grateful. And excited. I had browsed the menu on some previous occasion when I considered it as an option for a birthday treat for my mother and rather liked the look of the contents. Now inside the restaurant, I can finally lay my hands on the dim sum selection – the focus of Yauatcha, tea aside of course.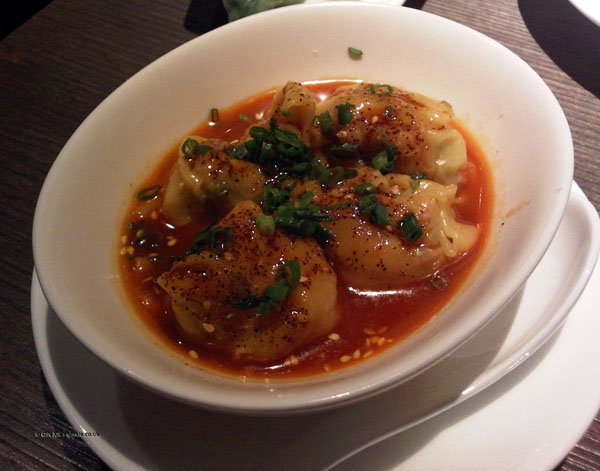 The first thing I laid eyes on was the spicy Szechuan wonton. Having grown up with Long Chao Shou* (龍抄手 – Long's wonton), the most famous wonton maker in Sichuan and possibly even across China, this sounded like just the thing I needed to try. And I was surprised to find that I was not disappointed – it had big shoes to fill. Of course it tastes different to Long Chao Shou but it's also surprisingly similar. The filling was full of flavour and it's impossible to resist the charm of the spicy and sweet sauce, typical of what you might find in a Sichuan restaurant. It was a real taste of home, with a lot less travelling.
My friend got stuck into her quarter crispy duck as I started on my Char sui buns. There are plenty of steamed buns around Chinatown but possibly none where the bun shell is quite so fluffy. I dread to think how refined that flour must be to make it so but when the texture is that good, those little things get pushed to the back of the mind along with memories of all its competitors. I'm not too hot on the flavour actually, but perhaps I was still lusting after those wontons?
My last dim sum for this short lunch was the sticky rice in lotus leaf. I am a sucker for sticky food – as far as I'm concerned, you can't go wrong with a bit of glutinous rice whether savoury or sweet. These little parcels contained chopped chicken pieces, mushroom and of course glutinous rice. And the pièce de résistance? It also contained the yolk of a hard-boiled brine preserved egg, without the white. I almost laughed out loud. How did they know that I hated the egg white in hard-boiled eggs? I like surprises like these.
All washed down with a pot of Anxi Tie Guan Yin, a light and refreshing tea, what could I possibly complain about? Perhaps that confusion with the name. What's in a name anyway? A rose would smell as sweet.
*Long Chao Shou is a very old name in wonton making. The current chefs are the fourth generation of the family, who own the infamous and secret recipe. It has a flagship store in Chengdu's Chunxi Road although I've also seen franchises elsewhere in China. You can either have the wontons plain, ie plain stock, or spicy.