The Lanesborough Hotel, Hyde Park Corner London SW1X 7TA www.lanesborough.com/en/apsleys_restaurant_london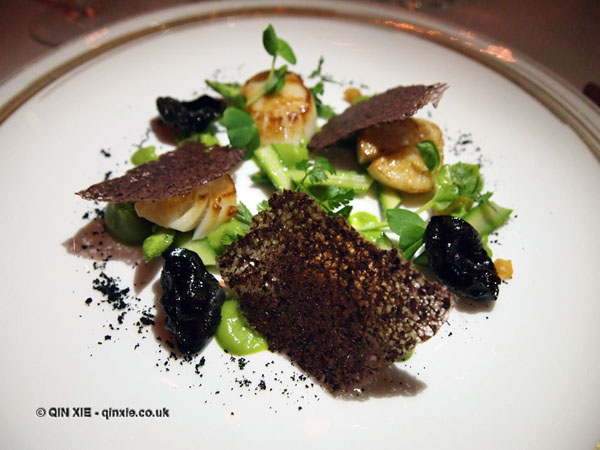 The Lanesborough Hotel is one of those sharp imposing buildings that, if you were a tourist, you would almost be too afraid to enter. Its markings are so understated that, in the most part, it's only identifiable by the lines of Rolls Royce that pull up outside. But this five star hotel houses Heinz Beck's first restaurant outside of Italy, the Michelin starred Apsleys.
Heinz Beck has been the Executive Chef of La Pergola since 1994, the only three Michelin starred establishment in Rome, as well as the recipient of numerous prestigious awards. It wouldn't be amiss to say that he was one of the most revered chefs in Europe.
You might think that with a three Michelin starred restaurant to look after, Apsleys would be neglected; but you would be wrong. In fact, Beck travels to Apsleys once a month to cook in the kitchens so that he knows all the food produced is of the same high standards. Perhaps that is why Apsleys gained its first Michelin star just five months after it opened in 2009.
It was with great pleasure, therefore, when I dined at Apsleys.
The evening started with a round of champagne and the bubbles clearly went to my head when I made the terrible mistake of not following my heart where food was concerned. While my scallops and asparagus satisfied the health angel perched on my shoulder, it didn't quite hit the spot the way that my companion's foie gras terrine with smoked apple and amaretti did. I guess I was not quite ready to stop the winter indulgence to embrace that taste of spring. An additional veal terrine croquette appeased me a little, but the next three courses did so much better.
When it came to Primi, there were no arguments – it had to be the tortelli with duck and black truffle. There are probably two ingredients that I dream of in my sleep, foie gras and truffle. It was too late for the foie gras but the truffle was certainly not going to escape. Its delicate earthy notes melted onto my palate all too soon.
The Secondi came in the form of fillet beef cooked in red wine and Segovia suckling pig, essentially a texture of pork. Impressive flavours again but also the fact that a lot of thought has clearly been put into the nutrition of the dish. Instead of having a side of greens, the vegetables are fancifully displayed on the plate with the meat. If you dined here five days a week, you would probably still maintain your appetite, health and figure, I imagine. Well, if you didn't indulge from their fine cheese trolley that is. I certainly would not say no to the offer of trying.
But that's just wishful thinking, inspiring my dessert choice: Dream – an amalgamation of chocolate, dehydrated fruit, ices, glitter and all things nice. The alternative was a chocolate soufflé with vanilla Tahiti; rich, warm and chocolatey.
I know I have not made a mention of the wines but that's because of the complexity of the wine situation. Apsleys' enomatic system means that there is quite a selection available by the glass. While I am happy to explore my wines, especially the whites with a big dosage of minerality, my companion is a little less inclined. But kudos to our sommelier who expertly matched wines to our food and took into consideration my request for interesting pours. The Italian selection featured 2009 Cantina Terlano 'Quarz' Sauvignon Blanc, 2009 Franz Haas Pinot Nero, 2009 Tosca d'Amlerita Chardonnay, 2009 Pio Cesare barbera, 2006 Castello del Terriccio 'Tassinaia', 2008 Tenyta Sette Ponti "Orma", 2008 Brigaldora Recioto della Valpolicella classico and Franz Haas Moscato Rosa 2009. The Moscato Rosa was a particularly considered choice given that, in the most part, dessert wines tend to be, in my mind anyway, white or fortified. This heady red matched my dessert, well, like a dream.
At the end of the meal, with the petit fours and coffee, came Heinz Beck himself – a shy man who was much happier in the kitchen and talking about food than himself. But after four impressive courses, plus a few extras, we were happily in awe.
(First seen on BespokeRSVP)