5 William IV Street, London WC2N 4DW www.terroirswinebar.com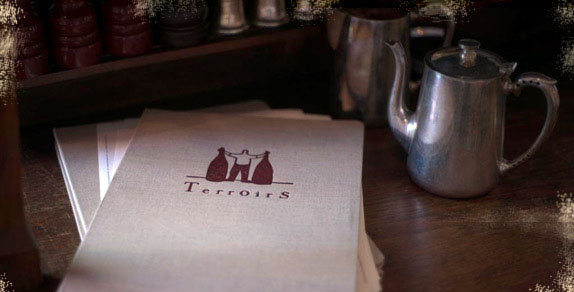 Terroirs is the sort of place that you're warned away from if someone you know despises natural wines. That's the only sort of wine it serves you see. The determined deterrence is not necessarily because the wine is bad but rather, it's out of principle and perhaps ignorance. The truth of it is that wine, whether natural or not, can be good or bad. Terroirs, equally, offered a sizeable selection of wines, some of which shone brilliantly whilst others were much less impressive.
Having recently returned from a wine trip to Georgia, the cradle of wine, and in particular, natural wines, I've found myself gaining an affinity for this contentious product. Listening to the likes of Alice Feiring and Isabelle Legeron talk about their love of natural wines, how of the hundreds of thousands of wines they have tasted during their careers, the natural ones were the most vibrant and limitless, I couldn't help but be impressed by their enthusiasm.
While it's true that a natural wine will never stand the test of ageing because of the ultra-low levels of preservatives present, it is also true that the minimal chemical intervention helps the characteristics of the grape, the terroir, the weather and numerous other contributing factors in the wine making process to develop in the final wine. There's a market for fine vintages with complex characteristics but there's also a market for wines for drinking right now, which equally deserves to be something other than bland and homogeneous. And that is what the appreciation for natural wines is largely about, and perhaps Terroirs too.
Back to the restaurant – it's more of a wine establishment than a restaurant really but a fellow journalist with a love of natural wines suggested it for dinner. Partly owned by Les Caves de Pyrène, the biggest importer of natural wines to the UK, Terroirs always gave me the impression that it was just a wine bar. While there is a bar in the restaurant to lean to with your drink and bar snack, they also have space on three levels for diners who are looking for something a bit more substantial.
A bit more is probably the operative phrase here though – the food is more or less a side serving to the wine with majority of the menu made up of cheeses, charcuterie and small plates. The food was good though. Really good. And seasonal too.
Dining with a reasonable appetite, we opted for a serving of pumpkin, chestnut and parmesan soup each plus duck rillette and pigs trotters with celeriac remoulade to share. The pumpkin soup was lusciously smooth, richly creamy and well contrasted with the nutty, sweet crumble of the chestnut. Pigs trotters, perhaps a little too rich as the last thing to arrive, made for sumptuous comfort eating. The thing that really excited, though, was the duck rillette. Intensely flavoured and well textured, it wholly satisfied the game rillette craving which I've been harbouring for some two weeks.
The wines we sipped as we supped was a selection of white and sparkling, all available by the glass. The 2009 Thierry Germain Bulles de Roches Saumur Brut was a particular favourite while the 2010 Cascna degli Ulivi Bellotti Bianco didn't fare so well. The other two wines, 2010 Domaine du Moulin Pet Nat Bulles Rosé and 2010 Bodegas Ameztoi Txacoli de Guetaria, lied somewhere in the middle of the two, towards the positive. There it was, the good and not so good of natural wines.
With talk of wines, food and juxtapositions of the two, we could have happily stayed and indulged in our romantically framed window seats for a few more glasses. But with a running tab of some £60 and adventures with a travelling bar planned, it was time to pay up. Besides, the elegant service allowed a young night of interesting landscapes to navigate for a pair of girls in the most fabulous of heels.