San Sebastian Gastronomika 2013
Two years ago when I attended San Sebastian Gastronomika (SSG) for the first time, I was invited by the conference to present on Chinese food with Hunan restaurant's Chef Peng, who I had co-authored a cookbook with. The schedule was hectic but I had some time to sit in on the 'Alta' demonstrations in the main auditorium.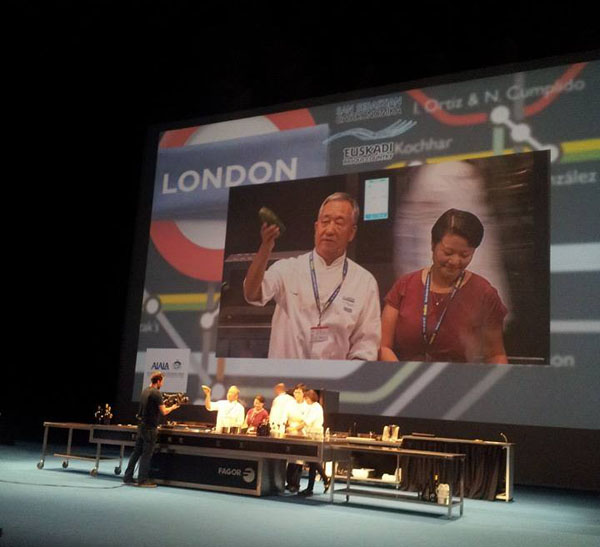 I was fascinate by many of the presentations but one of these stood out for me. It remains incredibly vivid in my memory and you will soon see why.
A Spanish chef from Madrid was talking about the freshness of the seafood. His restaurant was Japanese-inspired so everything had to be as fresh as possible. Half way through the narrative part of the presentation the chef brings out a turbot on ice and places it on the chopping board. Over the headset, the translator tells me something along the lines of 'Now I'm going to cut this fish live, or alive. This is not clear.'
You can see where this is going, even if you don't believe it at first. The entire auditorium was in complete silence as the chef expertly filleted the top side of the turbot and sliced these into sashimi. Meanwhile, his assistant placed the rest of the turbot on a bowl of ice and proceeded to pile more ice on top.
Once the sashimi slices were done, the chef arranged the fish onto the turbot plate and added some flowers for decoration. There, that was his final dish. Cue clapping.
And then the fish moved. And then it flipped again.
Evidently the fish was still alive when the chef sliced through it and took out the top fillets. He proceeded to explain that, in order to get the freshest fish for sashimi, the fish should be as close to living as possible. In this case, because the flesh goes through rigor mortis as it gets to the table, the texture will be what was described as crunchy rather than soft.
Well, that was definitely something.
San Sebastian Gastronomika 2015
So, fast forward to the latest edition of SSG and I was in the audience as a journalist. This time, I got to sample some of the tasters that the chefs prepared as well as see their presentations.
For young chefs, this is really invaluable. Not only do you get to hear about how some of the world's best chefs operate, how they make their food, learn about their philosophy but also taste their food (for a small portion of the audience). And for a food nerd like me, well, I could sit in there all day.
Sadly I was only able to attend two of the three-day conference, and not all of the sessions, but here are my highlights.
Day 1
Margaret Xu Yuan – Yin Yang Coastal www.yinyang.hk
I suppose one of the things that I had anticipated was traditional Cantonese cuisine when the chef is from Hong Kong. What surprised me about Margaret Xu Yuan's demonstration was the simple introduction of science that made the dish feel molecular.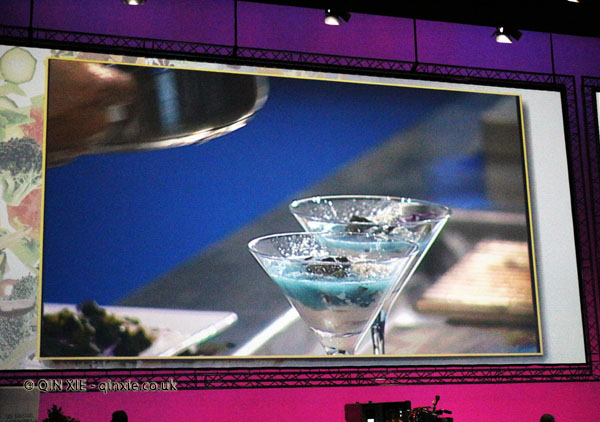 The dish she made was 'tofu on clouds'. On stage, Xu set freshly milled soya milk into delicate curds before ladling them into a Martini glass. In another pan, she made blue water by boiling red cabbage and then adding clam broth for flavour. This was ladled over the top of the tofu. Topped with a few seaweed pieces, the dish was effectively complete.
It reminded me that sometimes food science isn't about gels and spheres but can be as easy as finding unusual colouring in every-day ingredients.
Josep Roca – El Celler de Can Roca cellercanroca.com
If I'm honest, I was planning to skip Josep Roca's presentation for a long lunch. But then there was a change in schedule. I'm glad, though. Josep Roca led an incredibly emotive journey through a couple of wines that I was happy to meet. And when I say meet, I mean taste as well as getting to know the producers.
One told the story of a winemaker who battled with a debilitating disease and ultimately lost his life (Ilusión+ Pau 2008). Another told the tale of a winery that lost everything to a fire, leaving a smoky first vintage grown from the ashes (Arché Pagès Carinyana de Capmany 2012, unreleased). And a third that told the legend of a wine that lived through more than 200 years of history (Gonzalez Byass Trafalgar).
There was not so much a tasting of the Gonzalez Byass Trafalgar as a smelling exercise. A single bottle of the well-aged sherry was distributed between about 300 people using small vials that contained just a drop each, if that. Although the plan was to tip the wine onto the back of our hands and smell it, the sample was really too small. But even in the bottle, the smell was intense and indescribably complex. It is perhaps once in a life time. Like the Ribera del Duero icon tasting to come.
Eneko Atxa – Azurmendi www.azurmendi.biz
If you've been following the rise and rise of Eneko Atxa and Azurmendi then sustainability should be by your lips. Atxa's presentation was all about how Azurmendi works sustainably while being able to create the sort of cuisine that it does.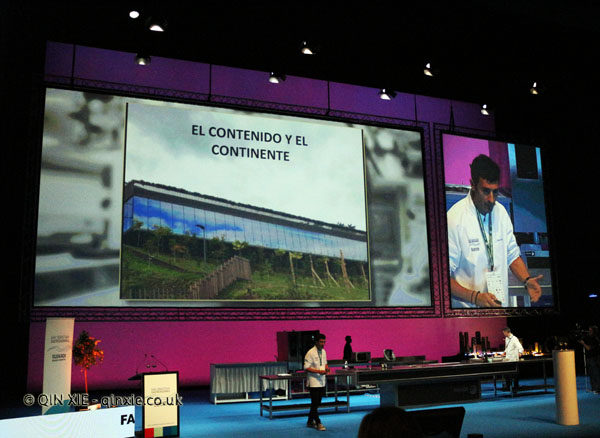 Refreshingly, Atxa's approach was not just about working with local producers, though that's still a big part Azurmendi's offering, but it's more about sourcing the best ingredients while still working sustainably. For example, Atxa posits that as a three-star Michelin restaurant, they are able to attract tourists to the local area and create jobs and be sustainable in that way. Case in point, I'm returning to Azurmendi again next month as one such tourist.
Legendary wines from Ribera del Duero
As well as chef presentations, one of the other great things the conference offers is tutored wine tastings and discussions. Some of the discussions are translated but all of the tastings are in Spanish. However, there's always a great opportunity to taste some interesting wines.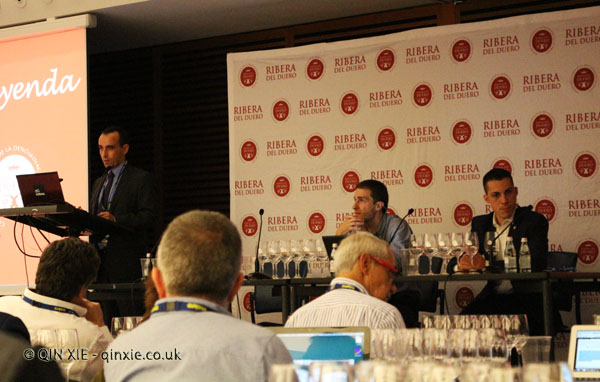 This year, there was a Legendary wines from Ribera del Duero tasting, featuring the likes of Vega Sicilia and Pingus. Although the tasting was only ticketed for €25, the estimated value of the 10 wines presented was an astounding €15,000. I wish I could have stayed to the end, because even as journalists these opportunities are rare.
Day 2
Paco Morales – Noor noorrestaurant.es
The presentation by Paco Morales really inspired me to visit Córdoba in southern Spain. It was based on the influences of his restaurant Noor, which included religion as well as culture.
Córdoba, according to Morales, is a melting pot of Christianity, Jewish and Muslim influences. At Noor, Morales wanted to adapt his menu according to the individual beliefs of the client. With this idea in mind, Morales set out to work with local historians to rediscover old recipes from the area and add new flavours to them.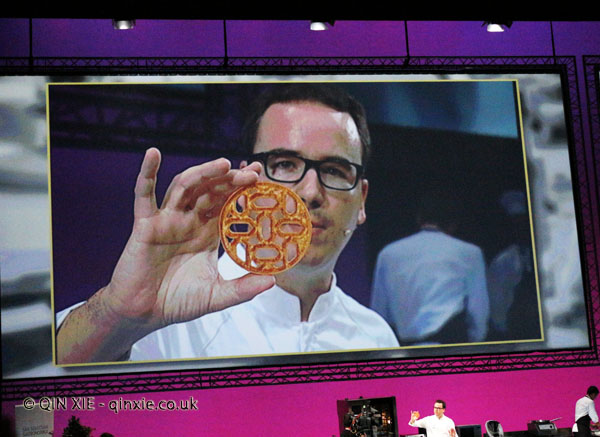 The dishes he presented on stage appeared to be simple but also unexpected. I found it hard to imagine the flavours but that's one of the reasons why I'm keen to visit his restaurant Noor.
Andre Chiang – Restaurant Andre restaurantandre.com
The night before I went to Azurmendi for a six-hands dinner with Eneko Atxa, Andre Chiang and Ricard Camarena. Chiang presented a couple of dishes but in the large part, the idea he wanted to share was about fermented juices. This was also the subject of his presentation.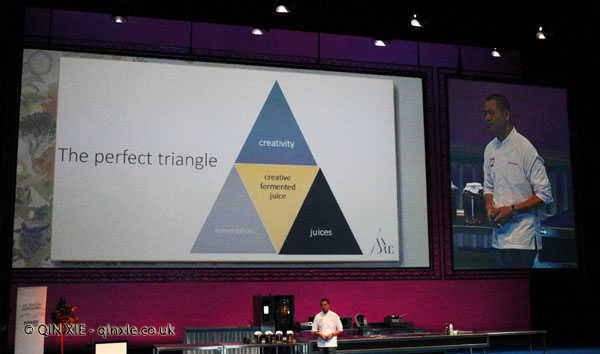 Chiang's offering is for those who do not drink alcohol. It's a set of fermented, non-alcoholic juices, for example apple, pine and charcoal, that are designed to complement the dishes at his restaurant. He says the juices could be adapted in a number of ways and can match a dish with greater precision than any wine. If the perfect flavours of a dish are made up of jigsaw puzzles, the juices would be the missing pieces.
Actually his idea is pretty left-field but it also makes sense. I'm not sure how many people would be enticed by the, at times, funky aroma of the juices but they do seem to lighten a degustation menu. As for the non-alcoholic bit, I still haven't fathomed how it's possible to make a fermented juice out of fruits and not get something alcoholic at the end.
Albert Adria – Heart, Ibiza www.heartibiza.com
Albert Adria, the man with numerous accoladed restaurants under his belt, was at SSG15 presenting on just one concept – Heart in Ibiza, a collaboration with Cirque du Soleil. Addressing a packed auditorium, Adria admitted failure. The first season of the restaurant concept had not gone exactly as planned – though judging by the videos he presented, this does not actually appear to be the case.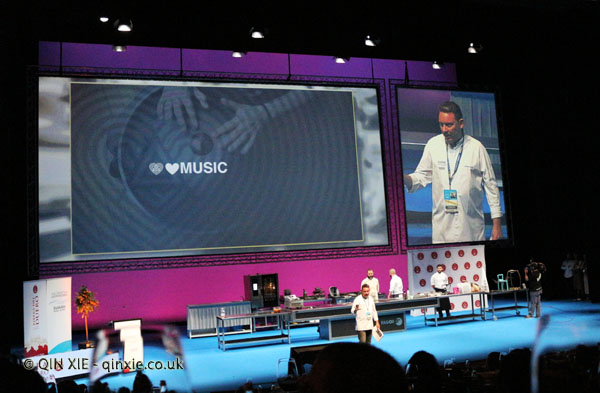 Instead, what was more obvious was the fact that the restaurant faced numerous challenges not applicable to restaurant openings elsewhere. For example, the number of ingredients that had to be shipped in and how to fit the food concepts around the club activities. Indeed, much of the ideas shown were about food as entertainment. Yes, it was gimmicky, but it was also innovative in its own way.
---
In Pursuit of Food attended San Sebastian Gastronomika 2015 as a guest of the Spanish Tourist Office (www.spain.info) and Grup GSR who organise San Sebastian Gastronomika. For more information on what this means, see our Editorial Policy.